As I mentioned in my previous post how you can protect your Android mobile and How to find a lost or stolen Android phone,now I'm going to share another helpful information on how to delete data of the lost android phone.
We all know that our phone contains very personal information related to us and our friends,but what should we do when our phone being stolen or lost.Google gave the feature to wipe out all your data without any third party app and without touching your phone.
When your phone is being stolen or lost don't panic Google is with you.With Android device manager,you can delete all the personal data like photos,videos and also apps.Before using you Android device manager you have to activate or give the permission to access the phone.
With this demonstrate you'll see that how to give permission to Android device manager to access the phone.You must activate Android device manager before you loose your Android device or before get it stolen.
Android Device setup
1.First open the setting page of your mobile and click on the security tab.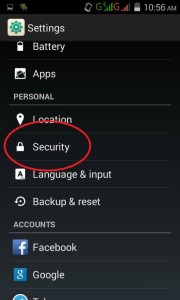 2.After the open security tab you'll see an option Encryption,you should encrypt your phone with an numeric password.This numeric password helps you to secure your phone by encryption system even when your phone being stolen.
Whenever anyone restart your phone,no one can open without entering the numeric password.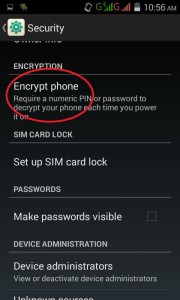 3.In third step click on Device administrators.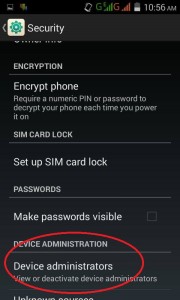 4.After open the device administrators tick right and activate the device administrators.
After the following these steps,you must need to give the permission to access the phone.Android device manager will erase all the data without any confirmation and also change the pattern lock or numeric password.
How to use Android Device Manager from PC
To delete all the data from your phone visit https://www.google.com/android/devicemanager,and login with the same google ID which you are using in your Android phone.Google account must be same because Google will locate your phone first.
After locate your phone,Android device manager shows you on the map that where is exactly your phone.If you have lost your mobile in your home,then first ring your phone at full volume.You can ring your Android device at full volume with the help of Android device manager even when, if your phone is on silent mode.
If you can't hear the ring,then lock your phone from android device manager and you can also delete all the data by click on Erase option.
You should always turn on your internet whenever you are roaming outside and also enable to locate your device.