Since SIRI has been introduced by the Apple, Android users start looking for a Personal Assistant apps too for their Android device.But do you know that personal assistant apps are available before the Siri launched by the Apple?Using a personal assistant app is pretty cool nowadays and users love to use them on their Android devices.
We now have tons of options in the space, including offerings from Google, Microsoft, and SoundHound, among others.Assistant apps are the options that you can use to boost up your mobility or productivity. Even, to make your everyday life easier than before, there is no alternative of personal assistant apps through your Android.
Best Personal Assistant Apps For Android
As you know that personal assistant apps are now in the trend that is why we have arranged a list of best personal assistant apps for Android devices.Try an Android voice assistant app from our favorite Android assistance apps. Make sure to check more than one. Well, that's up to you.
No matter which assistant you use on the Android phone, but the Google's own personal assistant is always preferable.Google launched its personal assistant feature in the latest smartphones Google Pixel which is powered by latest Stock Android operating system which comes with a Google Assistant feature.
Android phones other than Google's Pixel must have to install the Google Allo(an app).It is a messaging app similar to the WhatsApp with other different features.You can ask the Google assistant about the weather, joke, work answers questions, search for things, add stuff to a calendar, and a lot more.
This personal assistant app is fairly new works in any Android phone and the best part is that it is free and you don't have to pay a single amount.In the new version of this app you, in some countries you can ask questions in your local language.
So the second best personal assistant for Android devices is cortana.Cortana is really a most famous virtual assistant which allows you to access cortana even in the lock screen just like Google Now.If you're thinking that cortana is available only in Windows phones then you're right that it is launched by Microsoft, but it is now available for Android users too.
Microsoft recently released a beta version for the Android version which means this is not the complete version, but still you can do some interesting stuff with this app.Cortana lets you check weather condition, setting reminders, you can ask by saying about different things,  if you miss a call on your phone she'll let you know on your PC, and even send a reply text for you.
Like other Personal assistant like Google assistant and cortana, Hound works similar and works on command.This one is done by SoundHound and it's actually pretty decent. The basics are all covered here and includes some advanced stuff.Hound is very popular personal assistand app among the Android users.
Hound gives you fast and deep results to what you ask for, such as looking up the weather, placing a phone call, sending a text message, finding a hotel that matches your detailed criteria, navigating to an address, checking the stock market, searching and playing music, and even playing interactive games.
To use Hound you just have to say that "Ok hound" and you can ask anything without touching your phone.You can even find movie and theatre schedules.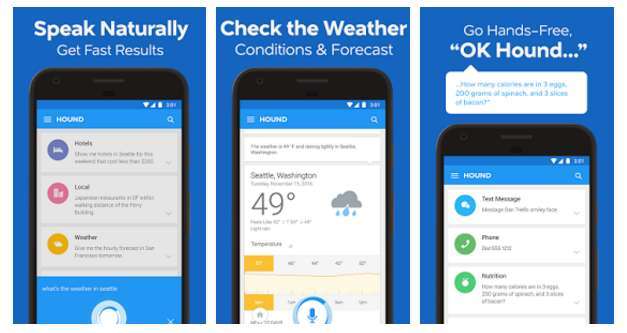 Databot is an another personal assistant app which is quite popular and have more than 1,000,000 installs.Due to the voice recognition feature, we have placed this personal assistant app on the 4th number in this list.
DataBot is the most fun voice assistant! It answers with its voice to your requests upon topic you are interested in. Apps and services integrated in your assistant modules give back to you images, search services and multimedia presentations.
With the free modules you can ask it without limits, questions and get answers about famous people, fictional characters, random topics, funny insults, daily horoscope, shopping list, reminders, appointments, alarm clocks, flash ligth, braintrain, stopwatch, countdown, love quotes, friendship quotes, motivational quotes, birthday quotes and take advantage of a limited set of jokes and riddles. You can also chat with your assistant.
Jarvis is a personal assistant unfortunately this is not the same artificial intelligence which we saw in iron man movie, but it helps you out to finding something better.Jarvis is a one of a kind novelty personal assistant app with a cool factor like none other in the store, skyrocketing your phone's coolness factor to a whole new level.
Jarvis informed you about weather, news, calls, text messages and what more, control your phone settings like turning on WiFi, Flash, Bluetooth to name some, play songs over bluetooth, set reminders based on people.You can also access Jarvis from the locked screen your phone which makes this app better than most of the others.
Jarvis runs on your Android wearable as well. Ask him to play songs by name, update your phone's background, change phone's settings & the list goes on.
Haptik is a 24×7 Chat based Personal Assistant which uses a combination of machines + humans to help you get things done in real time. Think of Haptik as if it were Siri, but on chat. With Haptik, you can simply outsource your everyday tasks to an assistant without having to do them yourself. It's a one stop shop for all your needs, and eliminates the need to have multiple apps for every little task.
Haptik GUARANTEES you the Cheapest Flight Fares for your domestic travel in India. If you find a cheaper price anywhere else, you'll get 100% cashback of the difference amount! So travel carefree knowing you're always getting the best deal on Haptik!
Dragon Mobile Assistant is one of the fantastic personal assistant apps for Android device that can complete your tasks quickly and easily.It has some of the great features so that you can make it your own personalized virtual assistant.Dragon mobile assistant is designed by the Nuance Communications, the same company that brought us the once iconic Swype keyboard.
It helps you set reminders, make initial appointments, and search the Internet without lifting a finger. You can turn on the Attentive mode to wake up your assistant anytime, even if your phone screen is locked. Use your own voiceprint, so your assistant will be attentive only your commands, no one else. Just choose a voice and give a name to your assistant, and start your journey.
It is capable of answering straightforward and complex questions, alike. It can perform basic tasks like answering issues related to weather or performing calculations to complex tasks like sending email and posts to social networks. Since it uses its own voice dictation Engine, it does a better job at picking the voice quality. Even when the screen is off, Dragon responds to your commands.
Sherpa is under-rated virtual assistant Android app which has some decent features which makes this plugin quite demanding.Sherpa uses powerful Artificial Intelligence Algorithms based on probabilistic models that predict the information that will interest you.
If its raining it will suggest you to grab your umbrella.It clearly understand the weather and inform you about it early so you won't miss your important meeting or your important lecture.
It will also shows the sports update on score, winning team and much more.It recognize your need, and the more you use it, the more it learns from you, by privately managing interactions, location services, and other series of inputs, in order to provide you with just what you want to know in that moment.