In my previous post I mentioned that how you can protect mobile,this is another post related to protection of mobile phones.As I mentioned that sometimes ago a celebrity faces the problem related to leaked photos.Everyone wants to secure their personal data from others and don't want to share their personal data.
In my previous post I enlisted 5 tips which can secure your data from evil hands and hackers,but what happen when you lost your phone in the market or anywhere.Your phones holds tons of your personal info which can seen by anyone.If you're really insecure about your personal files then read this post.
Track location
Google allows you to track your android phone location with its device manager,before using Google's device manager,you must have to follow some steps which helps to track your Android device.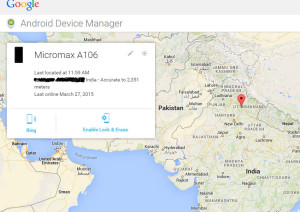 Turn on Internet:If you do not turn on the internet then the google device manager won't work because the google device manager can track only when if your phone is connected to the internet.I suggest you to turn on the internet every time when you roam outside the home.
Connect your ID with Android device:Connect your Google account with your Android phone which enables to track your phone with Google device manager.If you can't find where to login from your Google account then log in to play store you'll automatically connect with android device.
Enables to tracking location:User must need to enable location of android device unless the device manager can't find the device.I suggest you to enable location every time when you roam outside the home.
Another Device:You must have another smartphone,laptop or a computer to open device manager and track your phone's location on a Google map.
>>Prepare for the future>>
It's good to be prepare you to face problems before they'll come in the future.We all know that "prevention is better than cure",so if you will follow some steps you'll easily find your lost phone.
Lookout Security & Antivirus (Android APP)
Lockout offer you to install free anti-virus and security related software which allows you to find your phone.Lockout mobile security is very famous and more then 100,000,000 active installs.Lockout offer two types of subscription in Lockout app free and premium.
Free features are:
Secure your device with its free antivirus feature which protect your phone's privacy while you browse the internet.Its advanced antivirus protection protects your phone from adware,malware and malicious program and script.
Locate your lost phone and get accurate location details,it doesn't matter where it is.
Signal Flare helps to save the last location automatically where your phone was before finishes phone battery.
Screaming feature allows to ring phone very loudly even when your phone is on silent mode.
Backup and download feature helps to take backup of your contacts.
Premium features are:
With its theft alerts feature you'll get an email when anyone use your phone without any permission means enters a wrong password or create a wrong pattern again and again,lockout app will send you location of your device with photo which was clicked by front the camera of your phone.
While you browse internet,lockout will automatically block all the URLs which are not safe for you.
Secure your personal information and doesn't allow applications to use and read your personal information.
When your phone lost you can lock and erase all the data with this feature by visit lockout's official website.