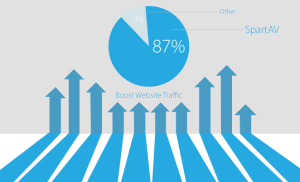 Blogging means we want our voices to be heard by others and it's hard to increase traffic on a new and less reputed blog.Every new blogger looking for visitors, but people love to visit reputed blog like Search Engine Journal, Shoutmeloud and others.
But the question is why these major blog's are too successful and why visitors love to visit these blogs.The answer of this question is, these major blog's have a good reputation because they provide the good knowledge which is useful to anyone who is in the IT sector.
We're going to share few proven ways to increase traffic on your blog.I personally following some ways to build the reputation of my blog.
1.Write a Good, long enough and well-formatted blog post
Content is still king, yes if you're looking to get indexed and want to appear your blog top in the search result then always write a good blog post which should long enough and contains deep knowledge not just basic.
Neil Patel, a successful blogger says that small and short blog post doesn't have a bright future.Google search results show top 10 sites which contain more than 2000 words of the article.
>>Good Post
A good article or post related to the knowledge or tricks & tips you're sharing with your readers.Do you know, basic knowledge about any product or service is not enough to get famous on the internet.If you're a blogger and share the information, tips & tricks and life hacks then you should share deep knowledge of everything like advantages, disadvantages.
Readers always wanted to know the full knowledge and don't like those blogs which share partialness story or article.You have to share full knowledge like an expert.
>>long enough
As I told you that, Google search results show top 10 sites which contain more than 2000 words of the article.So, it's not enough to write blog posts of 500-800 words.
>>Well formatted
Research says lengthy content, but lengthy content is not enough.Well-formatted article attract readers because it made easy to read articles step-by-step.Almost every successful blog use Pillar article strategy while writing blog post.
Don't know about pillar articles?
Pillar Article is well-formatted articles which make article easy to read by peoples who come to a blog, but don't have too much time to spend.Pillar article or tutorial explain everything about a sub-topic of a parent topic.
Content of Pillar article
Well researched
2000+ Words
Relevantly linked to other blogs
Full of actionable tips
Implement Pillar article format
1.Create articles 1500-2000 words
2.Separate Headings, Subheadings like Main-content topic, sub-content-topic.
3.Step-by-step tutorials.
4.Attractive and unique article heading.
5.Short paragraphs.
2.Guest blogging
Guest blogging is the best way to generate backlinks and drive traffic to your blog.Guest blogging not only increase traffic, "but also" increases your blog's reputation.
You can enable the guest blogging on your blog which gives your free blog post and also visitors.It's a win-win situation for blog your blog gets visitors and blog posts on the other hand guest bloggers get backlinks and traffic from your blog.
3.Forum Posting
Forum is the largest question and answer website where you can read the problem and answer from the experts.You know, if you're running a blog related to a specific niche then you can become experts on different forums like Google forums, Yahoo answers, WordPress forums and others.
How to increse traffic to your blog with forum and directories
Whenever any person ask for a question related to your niche and you know how to fix the issue then answer the question with a source of the link which increase backlinks and traffic at the same time.
There are many forums on the internet you can find the related forums which include your Niche like WordPress, SEO, Blogging and others.Yahoo answer is a popular forum and you're allow to paste the backlink on yahoo answers.
4.Social Media
Social media plays an important role in the success of any blog or website.Social media is a kind of newspaper where you can find almost everything.Never avoid social media optimization if you want to make your blog famous.
We all know that Social media is used by all over the World and Facebook is the major and most used Social network.Ewebtip also getting traffic from facebook and facebook is the 5th best source of traffic for ewebtip.com.
Not only from Facebook, Google plus and Pinterest also driving traffic to my blog and I'm very happy with it.It is very important to share your online content on social networks like twitter, Facebook, Google plus.
5.Blog Commenting
Blog commenting is very effective methods to create backlinks, but commenting on other blog doesn't always means getting backlinks.Commenting also drive traffic, but only when if you know the technique.
Users answer in forums same answers the questions asked on blog's.This will drive traffic on your blog because it is very effective way to show your knowledge on a specific niche.If you answer the questions to peoples then in the future they visit your blog and ask their questions.
You can suggest alternatives to readers and also to post author which attract readers to see your profile.Always write a quality comment because quality comments make chances to get accepted on a blog and do not spam by leaving links every time.Only leave your links whenever it needed.
Final Words
These methods are the Best Proven Ways to Increase Traffic on Your blog, it depend on you how to treat with your blog because readers love to those blogs which contain quality content.You can follow these methods and share your experience with us.