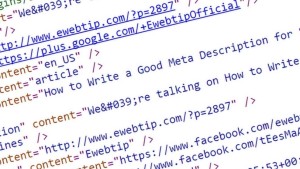 Description is an important element of a blog post or an article and it's essential to write a Good Meta description for search engines and for humans.
Nowadays search bots are more intelligent than a human, so making fool to search bot isn't easy.You have to create a right meta description related to your post or product.A good meta description create your chances to get on the top in the search result.
Last year Google disable the features of Keywords, now keywords not perform well to put your blog on the top in the search result.You have to depend on the description and title to show your blog on the top in the search results.
1.Right length of the meta description
Right length refers to number or characters and words which recommended by major search engines like Google, Bing and Yahoo.
The right length of meta description is 130-150 character, but you can write description of 160 character.Every user is bound to write meta description within 160 character because search engines cannot read more than 160 characters.
2.Place your keywords
We're not talking about meta keywords, here we're talking about topic or heading which your post is all about.
For examples this post has a heading of "How to Write a Good Meta Description for Search Engines", in this post title "Good Meta description" is the keyword and it is very important to place this keyword in the starting of the description.
As I told you search engine bots cannot read the description more than 160 character, but it is recommended to mention your keyword in the starting of the description.
3.Description should be unique
Duplicate meta description affects web page ranking in the search result.Search engine bot will show the other website instead of you if you copied others meta description.
To get on the top in the search result, you must have to write a unique description of the article or product.Search bots index your web page on the top in the search result.
4.Match The content
The description is all about your blog post, so you have to write a meta description which match the content you write.
If you write the description which is not related to your content then your blog can penalize by search engines.
5.Easy to understand
We'll know that description is very important for search engines, but it's very important for humans too.People visit those websites which contains the good description and which can easily recognize by users.
Do not use professional English keep it simple as possible.It's also very important to create a description for humans because humans open your web page to search engine bots.
Final Words
We all know how essential meta description is especially for optimizing your blog post on the search engines.It's very important to create the right meta description of your blog.
You have to create your blog post description do not use meta description generator this will affect your blog's ranking.If you're copying meta description of others then it's good to leave blank meta description box because Google will find the best excerpt for your blog's description.