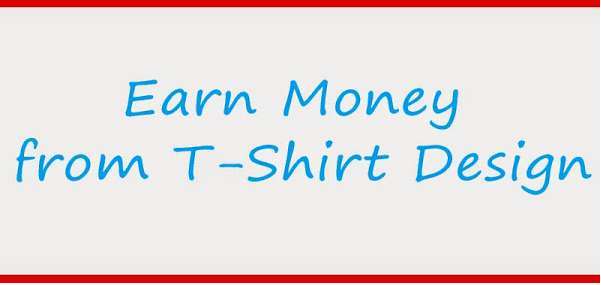 Love to design everything,if yes then this post is for you.Many designers,painters,computer designers and all art lover who leave their hobby for job have a great opportunity to get back and live their dreams.
Love designing then create a great design for a T-shirt and you can get thousands of $(dollar) for designing.Yes I'm serious this is true that you can become a designer of t-shirts which will give you an opportunity to earn extra income at home.
While designing T-shirts no need any document or certificate related to your art school,you just need skills to design great T-shirts design.
How to start
starting is very simple you just have to search for those websites which are created that type of online competition.For your ease I share some information about that type of websites which are providing opportunities for all.
Designing T-shirt isn't easy and not too much tough just create a unique design not for only to win the competition you should design tees for peoples and customers who are love to buy tees of your designing.
Design a unique and creative design which peoples loves your design and your creativity and share with your friends.You must need votes to be successful because more votes increase your chance to win.
Website which pay money for designing
Here are hundreds of websites are on internet which pay a good amount for designing T-shirts.You just need to apply by sign up and upload your design and submit.If you get lots of votes due to having a great and unique design they will pay you thousands of dollar $.
Threadless is one of the websites which pay you a high amount of money for designing tees.This website has its own shopping portal where they sell those T-shirts which are designed by participants.This site is not scam they really gonna pay for your design if you deserve it.If you can design better then others so go to threadless website and participate.
Reward:

Do not worry about reward they will pay you if your are one of the winning participants you'll be rewarded with $2000 cash and another $500 gift certificate from Threadless.Looking good then what are you waiting for go and try your luck and skills.
Shirt.woot is another good website which encourage designers creativity to create a good and unique tees design which they'll sell if your tees design selected in competition.They sell tees on their own shopping portal and rewarded who won the competition.You must design a great design but good and unique is not enough without voters interest your design not gonna be select.
Reward:

Again this website is also gives a good amount of money to winners of competition,if you are one of the winner participants then you will be paid by shirt.woot.The designer get $2000 plus $2 as commission for every sell after the first day.
Design by humans name told everything about this website,Designbyhumans.com sell tees which are designed by the participant and submitted to Design By Humans.IF you have the skills to design a T-shirt with your own idea so what are you waiting for?Create an account and submit your own design.
Reward:

You'll rewarded if you won Design of the day by $750 cash,if your design select as T-shirt Design of the week they'll pay you $1,000 and if you are really a great designer then your t-shirt design will be rewarded by $1750.
Remember one thing,if you are dreaming will old t-shirt design which is available in market so please do not sign up in these website.You'll definitely waste their time and your's own time and efforts too.
Promoting your design on social Media:
You must need to share your design on social media,this will promote your design on social media and  helps to get more votes for your unique design.You can use Facebook,Digg,Twitter,Google Plus,Pinterest,Linkedin, and on others different type of social networking websites.