Cell phones are an amazing invention which helps to keep in touch with friends and family and with other close one's and you can easily talk to other persons with just a call, but sometimes It can be quite annoying when someone is constantly calling you and you don't want to answer the call.
Most of the time telemarketers, phone scammers, unknown numbers or text-sending machines invade privacy which annoys everyone especially when you're in your office or spending precious time with your loved ones.
luckily Android smartphones are able to block unwanted calls and messages with the third-party Android app that can be easily available on the play store.In this article, we've arranged the best Android apps that can use to block unwanted calls and messages.
Best Apps to Block Unwanted Calls and Messages
Play store is full of those apps which claim to block unwanted calls and messages and we've arranged the best 10 Android app from the list of many apps which are popular and have good ratings on play store.
Call blacklist is an Android app which is popular among all the Android user.It has a huge number of downloads and 4.5 rating out of 5 on play store which is given by more than 302,550.Call blacklist can block all the unwanted calls as well as text messages from any unwanted, private, hidden, anonymous or unknown numbers.
This plugin lets to block annoying calls or messages like telemarketing, spam, and robocalls.You can block numbers from your contacts list, calls, and messages logs, or add them manually.You can also set specific times when you want to block calls or messages to your phone.
Truecaller is the 2nd app which is popular among the Android and highly recommended.This is not just a call blocking the app, it is an amazing plugin which shows you who is calling you from the unknown number.Truecaller identifies unknown callers and blocks nuisance calls.See names and photos of people who call, even if they aren't saved in your phonebook.
With a community-based spam list of over 200 million users, you always see those numbers which are blocked by others, so you can also identify that the number who is calling you is a spam call.
This is an advanced call/SMS filter and blocker tools. Create a black list and stay safe with your Android phone. This is a simple app, but rich and powerful features to manage unwanted call/text message from anyone.This app works with per caller ID (incoming number) basic. Caller Ids can be organised into blacklist, or exception list and configured blocking options.
With its pro version you can use its advanced feature like in Invisible version it has a different icon and different name, so no one can identify that you're using a blacklisted call and message blocking App.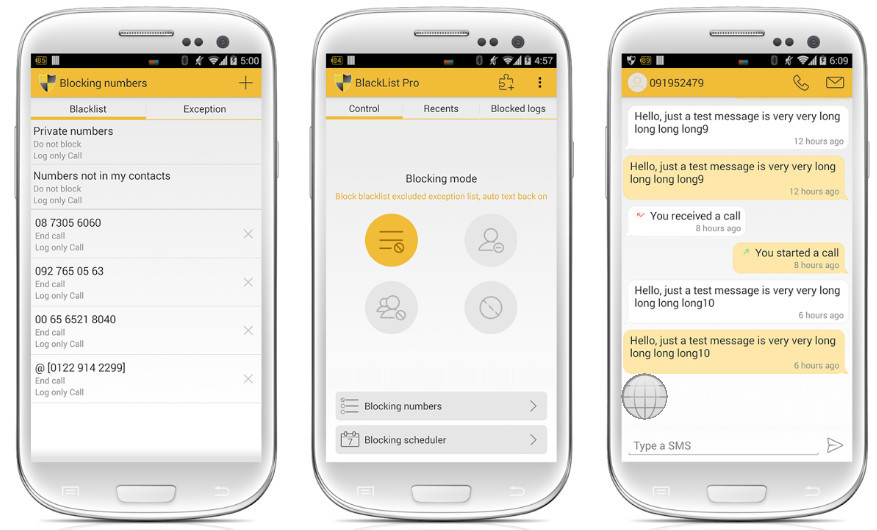 Call block is a free full-featured app to block harassing phone calls and SMS for you. And we've detailed the methods of blocking, you can stop calls or SMS from the same number. This app will be a good help to avoid harassment when you at work, meetings, driving, rest, but yet remain grace.
This app has an easy to use an interface if we compare to other call blocking the app.This app also provides answering modes.There are four modes Power off, Busy, No service, The number is not in service.
Android firewall call and SMS blocker allows you to configure multi rules to block different call or message at a different time.Periodic rule and one shot time rule are supported.ou can forward the blocked calls to voicemail or a non-existing number. And you can set aFirewall to accept and hangup blocked calls to avoid forwarding to voicemail.
Another good thing about this plugin is that numbers in protected list will never be blocked; Protected conversation supports to hide protected list numbers' call/SMS/MMS.
This call blocker app allows you to block the call and the messages you're receiving from the unknown persons or from bots.It is a completely free Android app and lets you block unwanted calls, spam messages, as well as create custom blocking modes, and block the "One-ring phone scam". It's a very good app to have if you get a lot of unwanted calls or texts.
It consumes less battery & Ram and also has an easy to use interface with light weight.You can add the numbers to the blacklist which you want to block and in the whole list which are important phone numbers so they can always reach you.
Blacklist Plus is easy to use call blocker. You can add to the blacklist not only any contact or number from the calls and messages logs but also the whole range of any phone numbers that begin with certain digits. Any numbers in any format can be added to both the black and the white lists.
This is a powerful call blocker.By using the whitelist and the various modes of blocking, you will have the opportunity to define precisely the circle of people who can get access to you.
Extreme call blocker is not just to block incoming calls, but also block the outgoing calls.With this app, you can completely block outgoing call to a particular number.Another good feature of this app is an Invisible mode in which you can remove app icon from your app list.
The most important are their backup and restore. You can backup/restore from an SD card, but also from your Dropbox account, meaning it's in the cloud and blocked message hidden in private mailbox, can only be accessed with a password.
Similar to the true caller Android app, caller ID & block app works the same and block the unwanted and spam calls.This plugin will show the identity of the caller from the unknown number and reveal the name and photo of all incoming and outgoing calls.
It will show the incoming call and alert you when anyone calls you which number is blocked by other or not trusted by other, so you can put a specific number on the reject list without attending the call.
Kaspersky is an Antivirus app for Android phone which provides the complete security from securing device from the unknown online threat to the unwanted and spam callers.Yes, Kaspersky not only protects your Android device from the online threats such as a virus, malware, and hackers but also lets you block unwanted messages and calls.
With this app, you can independently set filtering rules for incoming calls and SMS texts, add unsolicited contacts to the blacklist, block SMS texts with ads and detect spam from non-numeric numbers.