Among the many things you can do with the Android phones, Enable Guest mode on Android phone is one of them.Unlike other Operating systems Android now allows you to enable the guest mode on Android phone.The guest mode on Android is similar to the using guest mode on Windows or Mac computer.
Using Guest mode on Android Phone is similar to using a different Android device after enable the Guest mode on Android phone.Many of you may get concerned and feel that you should have deleted that message or a particular picture before giving it to someone.But now you just have to enable the guest mode or switch the user account of your phone.
How to Enable Guest Mode on Android Phone
Guest mode is already available in most of the devices and Lollipop Android version, but some of the phones in which stock Android is not installed can't use an inbuilt feature of guest mode.So if you're using a device which doesn't have the feature of guest mode or Lollipop Android version you can make use of several third party applications.
Enable Guest mode on Android Phone Without App
If you running Android 5.0 Lollipop then there is a direct option to enable and disable Guest mode.To enable guest mode on Android 5.0 Lollipop.
First Open the notification bar by scrolling down from the home screen of your phone.
Now click on the user icon to proceed.
Click on the new user or Add user option from the "User" menu option.This creates an entirely new user account and includes the full Android setup screen where you need to enter their name and Google account details.
The main account on the device remains as the administrator account. Tap the cog icon in the Settings > Users screen to set whether other users should be able to make calls and send text messages.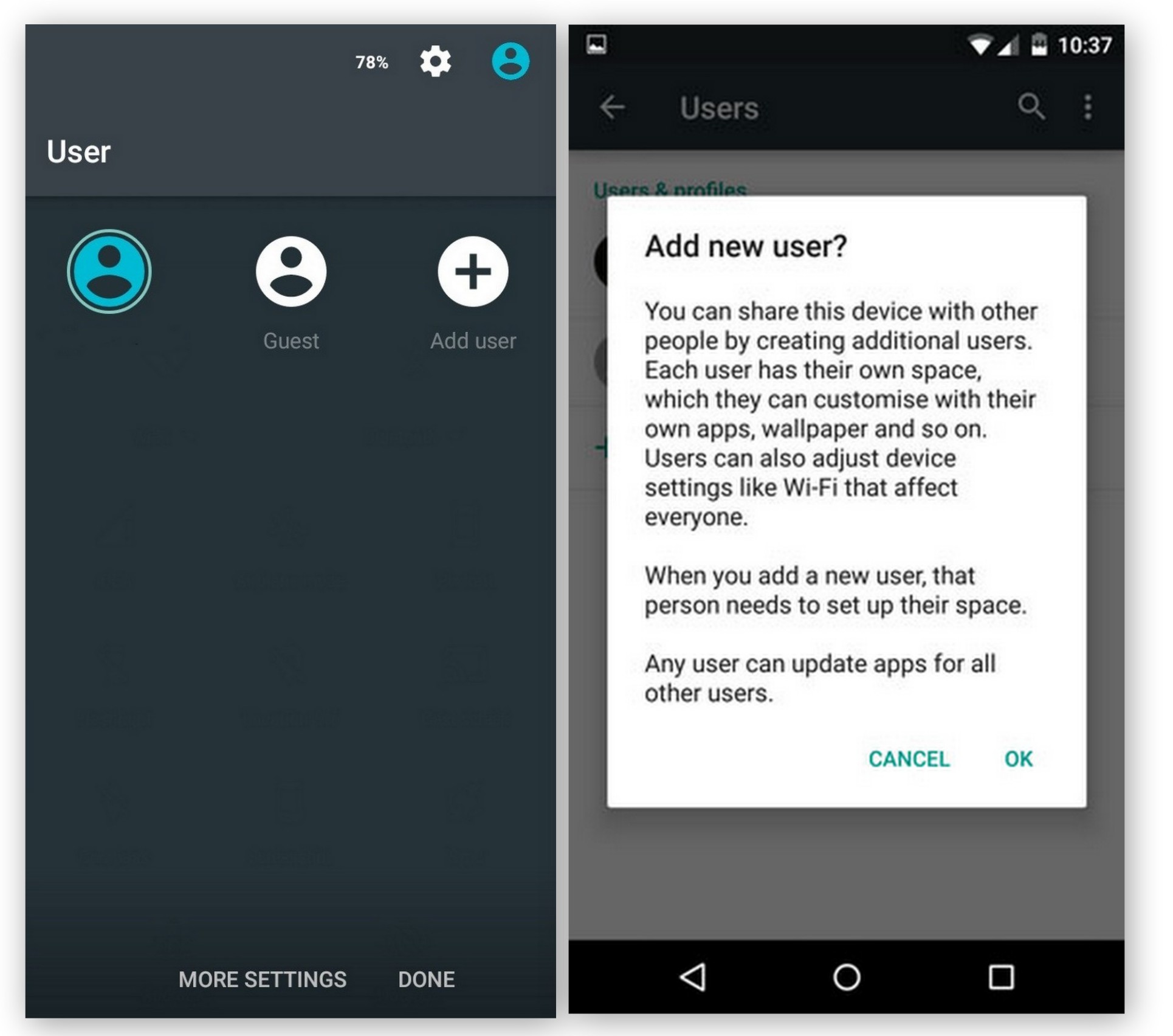 Disable the Guest mode in android
You can either disable the guest mode when it not needed.To disable the guest mode in Android you just have to switch the user profile of the Android device.
You can do it by opening the notification bar of your Android device and double tap the user icon.
Choose the profile you want to switch to and you are done or delete the user profile permanently.
Enable Guest mode on Android Phone Without App
In the condition your phone doesn't have the inbuilt feature of guest mode then you can use the third party apps which allow you to add the additional feature of guest mode.
To enable guest mode on Android phone you can use either Guest Mode app or App Locker with Guest Mode Android application.
1.Guest Mode
Guest Mode is a security control app which helps you to protect your personal data and restricts usage for your apps.With Guest Mode, you prevent others from using your installed apps except for allowed apps which you have allowed it for public use.
With Guest Mode all app access will be disabled by default and only user selected apps will be available for public use.Guest Mode provides multiple profile features, you can define an unlimited number of allowed apps profiles and you can switch between then easily.
2.App Locker with Guest Mode
Similar to the guest mode app, this Android application protects your personal data.Depending on the password or a pattern entered to unlock the phone, the app locks all private apps & content on your phone.A completely different approach towards the privacy of your data.The application provides you with new sets of features.
Two levels of access in which you can choose a master password for our personal use and a guest password to use when someone borrows your phone.When someone borrows the phone, simply unlock the phone using the guest password.The screen will open but the locked apps will continue to remain locked. Thus, your privacy will always be protected.