I found many queries on the Internet related on "How to reduce Internet data usage in Android Phone", so I decided to share methods that how you can reduce Internet data usage same as I did.
Most of the Android users suffering from the Internet data problem, I read few comments on Android users are paying the large amount to the Internet service providers without using the internet.
Tips on How to reduce Internet data usage in Android Phone
Here are the tips which can help everyone to reduce the Internet data usage in Android Phone.
1.Stop Using Facebook and Instagram App
Do you know that most of the internet data used by these two apps Facebook and Instagram, only Facebook Android app eat your hundreds of MBs every month?Instagram is after the Facebook in the list of most Internet data consuming apps.
Facebook recently launched a new Facebook app "Facebook lite".According to the developers of Facebook lite, it is the best Facebook app for those users who want to use Facebook without using more internet data.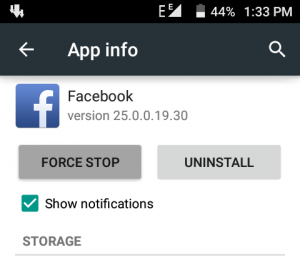 If you're looking for Facebook alternatives apps than I clear that others apps are working same and consume more internet data.
You can use Facebook lite instead of Facebook, but there is no alternative of Instagram.You can also force stop your Instagram app while you're not using Instagram this will help you to reduce the Internet data usage.
2.Disable the auto-update apps
Disable the option of auto-updating of apps will definitely help to reduce your internet bill.Do you know developers launch an update of apps daily weekly and also monthly?
Auto-updating apps results, the downloading off new updates automatically which cost your internet data.This is the main reason to increasing your internet bill because whenever developers launch updates then play store automatically download the update which is the main reason of draining your Internet data.
To disable the auto-updating apps, you have to open play store settings.
Playstore>>Settings>>Auto-update apps>>Tap on the first option and save.
3.Compress Chrome pages or Use Opera Mini
The third reason to drain more Internet data is due to browsers.We all surfing the internet on browsers like chrome, Mozilla firefox or others.Chrome doesn't compress web pages default you have to enable this features.
Open Chrome>>Go to Setting>>Reduce Data usage>>Switch button on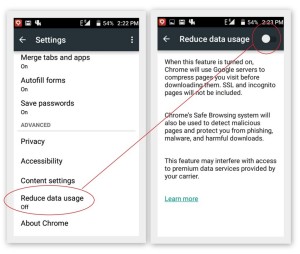 If you're not familiar with Google chrome then, you can use opera mini android app which consume a small amount of internet data.Experts say that opera mini is a great browser for the situation low connectivity and to reduce the Internet data consume.
4.Stop Using Live streaming sites
Live streaming sites like youtube, Netflix and others are also the reason to draining internet data.Whenever you want to listen to the music, watching movies you always open Netflix or youtube app.
These live streaming apps consume most of the data which you use within a month.So copy some videos and music into your phone.