Top 5 Spy Apps to Sneak on Someone's Phone
Selecting the right mobile spy is a daunting task when you have plenty of options, especially when all the apps are offering similar features. However, going ahead and testing each app is not a solution. You have to do thorough research before you finally pick one.
If you want to sneak on someone's phone using a spy app and don't know which one to get, you have come to the right place as we bring you the top 5 spy apps so you can secretly tap into someone's digital activities according to their features, price, and compatibility. You can compare the options and then choose the one that best suits your needs:
1.Xnspy
Xnspy is one of the leading spy apps right now. The reason it ranks on the top on our list is that it offers an interesting combination of basic and advanced spying features along with affordable cost and 24/7 customer support. All of these combine to make Xnspy one of the best spy apps of 2019. Parents can use this app to monitor their children, or employers could use Xnspy to keep a watchful eye on their employees.
The app monitors phone activities in real time. You can monitor the incoming and outgoing text messages and calls along with the instant messenger chats and the multimedia that a phone user sends or receives. You can listen and record phone calls and surroundings as well. Xnspy's GPS location tracking offers a variety of tracking features. You can track the current location, location history and the geo-fencing feature lets you get alerts when the phone user exits or enters a certain area. You can access emails and control the monitored device in various ways such as turning off the device, wiping off data, turning on the phone's mic and locking the device.
There's more. The app offers some advanced spying features as well such as keylogger and Wi-Fi logs for Android devices. All of these functions take place silently in the background. You can add certain contacts and words in the Watchlist and get alerts whenever they appear in the chat conversations. The app is compatible with both Android and iPhone.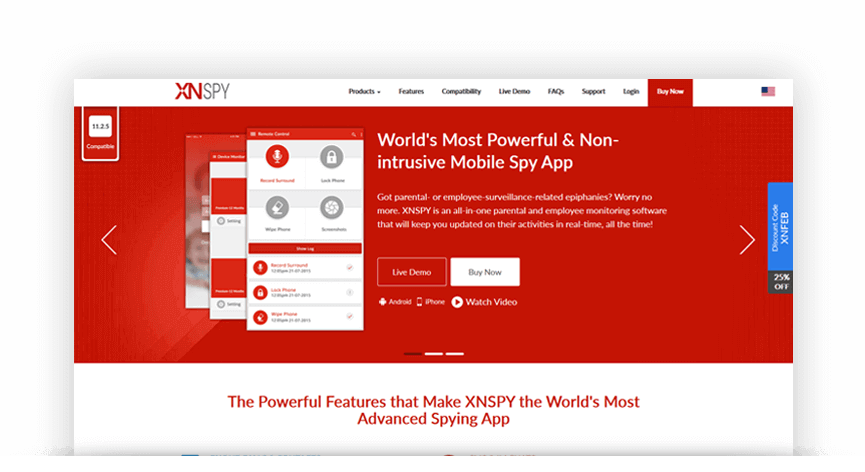 Compatibility
Xnspy's compatibility is another reason which makes it a sound choice for a spy app. The app keeps up with the pace of the various changes in the operating systems. For an iOS device, the app provides a no-jailbreak version, too.
Here is the compatibility table for Xnspy:
| | |
| --- | --- |
| Android | iPhone ( Without Jailbreak) |
| Supports OS 4.x, 5.x, 6.x, 7.x & 8.x | Supports iOS 6.x, 7.x, 8.x up to 11.2.6 |

Xnspy is also compatible with Android Oreo and the latest iPhone iOS i.e. 11.2.6 and also with the older versions.  
Price
Compared to other spy apps in the market Xnspy is an affordable option for spying. The app has two editions: Basic and Premium. The Basic edition costs $8.33/month, and the Premium edition is for $12.49/month.
Rating 9.8/10
2.Spyzie
Spyzie is another spy app that allows you to sneak on someone's phone activities. Spyzie lets you monitor text messages, calls, IM chats, web browsing history, and a lot more. The app lets you track the phone user's locations with GPS location tracking and geofencing. Spyzie also runs in silent mode. You don't have to root the Android device or jailbreak an iPhone for the installation of this app.
Among advanced features, the app lets you capture screenshots and preview videos of the monitored device as well. Not many spying apps are offering that. Spyzie has plenty of features to offer to its users, but customer reviews suggest some issues regarding its functionality.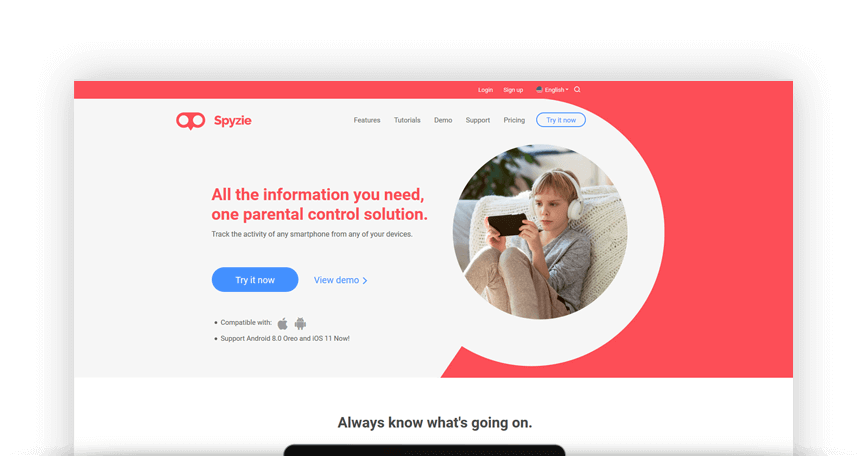 Compatibility
Spyzie is compatible with both Android and iPhone. Check out the compatibility of Spyzie in the table below:
| | |
| --- | --- |
| Android | iPhone (No Jailbreak) |
| 4.x to 8.0x | 6.x to 11.0x |
Price
The Android version of Spyzie has two editions for its users. There is the Ultimate Edition which costs $49.99/month and offers a full functionality. The Premium Version is for $39.99/month but has limited functionality. The iOS version's license is for $49.99/month.
The app has tons of features but is an expensive monitoring solution. The iOS version does not allow the complete functionality of the app. Users can enjoy all the features with Spyzie's Ultimate edition.
Rating: 8/10
3.MobiStealth
On number three we have MobiStealth which ranks among the top spying apps in the market presently with a wide range of spying features. You can view text messages, call logs, installed apps, instant messenger chats, web browsing history, multimedia, record calls and surroundings, track locations, and record keystrokes.  You can view the monitored phone activities both from your phone and computer.
It is popular amongst business owners so that they can keep a watchful eye on their employees. You can continuously monitor the phone's activities remotely.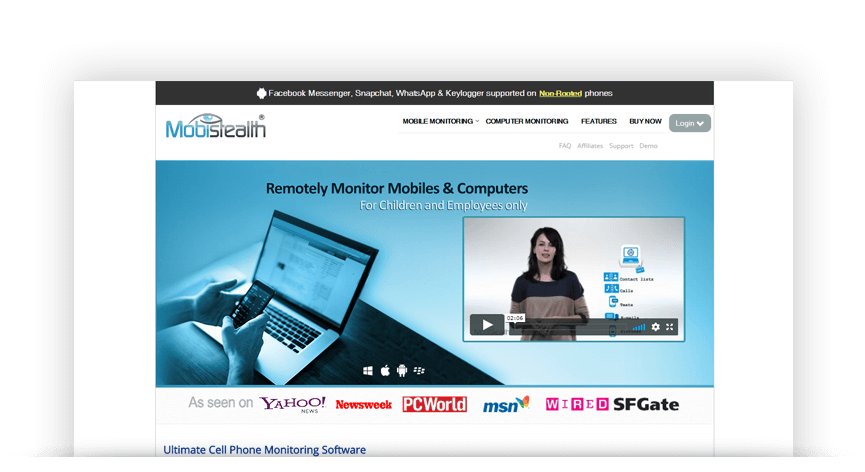 Compatibility:
MobiStealth smoothly runs on both Android and iPhone.
| | |
| --- | --- |
| Android | iPhone (No Jailbreak) |
| Supports up to 6x | Supports iPhone X / 7Plus / 7 / 6Plus / 6 along with other models having iOS versions 9.0 and above. |
Price
MobiStealth offers a vast variety of packages for Android, iOS, Windows, and MAC. For Android, MobiStealth offers two editions. Pro and Pro X which are for 16.66/month and $26.66/month respectively. Similarly, for iOS, the app offers two editions to its users. The Premium version is $26.66/month and, the Premium Plus version is for $40/month.
MobiStealth's editions for Windows are LITE and PRO for $13.33/month and $20/month respectively. For MAC, there is MobiStealth LITE for $13.33/month.
One thing to remember is that MobiStealth's basic version for all of the devices provides only basic spying. To benefit from all features and experience full functionality, you would have to select the Premium Versions. The app becomes really expensive in this case no matter who is using this app parents or employers.
Rating: 7.8/10
4.iSpyoo
iSpyoo is another mobile spy app you can use to spy on someone's phone and digital activities. It works silently in the background and records all the activities taking place on the monitored device Along with basic monitoring features such as text messages and call monitoring, iSpyoo lets you monitor video calls which take place on apps such as Skype and Viber.
You can monitor emails, multimedia, internet browsing history and the contacts with this app. Users can also benefit from a free trial version. The app lets you monitor 3 different devices with one license. The only drawback is that you have to jailbreak or root your device for full functionality of the features.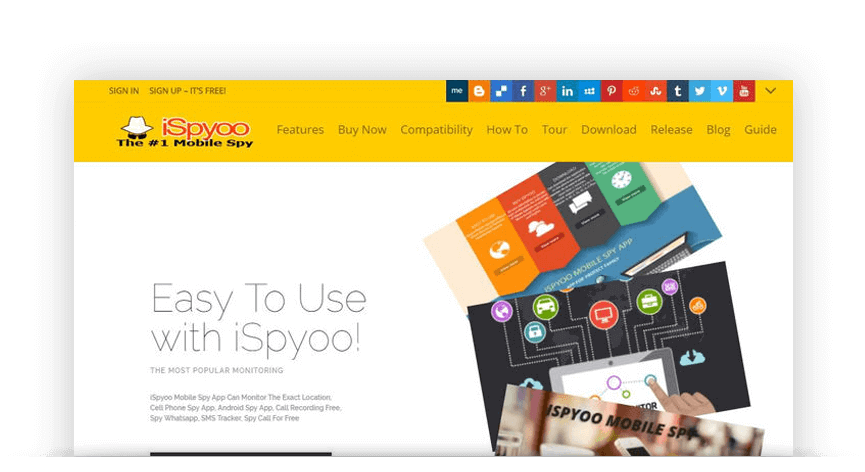 Compatibility
The app is compatible with most of the iOS and Android devices. iSpyoo is not compatible with Blackberry or Windows phone. Apart from that, it is perfectly compatible with the carriers that allow for internet access.
Price
iSpyoo has three different packages to its users. All of them have different prices and offer different packages. The more you pay for a package, the more features you can enjoy.  The Basic package is for $19.99/month. The Premium package is for $23.99/month, and the Gold package is for $25.99/month.
The app does not offer the facility of a monthly subscription. You can subscribe to any of the packages for 3-months, 6 and 1-year subscription. The users can choose any package that is most suitable for their needs and budget.
Rating: 7.5/10
5.Flexispy
Flexispy is another spy app that has made it to our top 5 list with its performance and monitoring features. It allows you to monitor various instant messaging apps such as Facebook Messenger, Google Hangout, WhatsApp, and Tinder. You can also view the address book of the monitored device, track the activity of different applications, and check the web browsing history and record keystrokes as well.
Flexispy is one of the few apps that lets you remotely snap images. Flexispy offers a number of advanced features as well. You can record the surroundings, track the location of the device with the help of pinpointing the location on the app. What's more, is that the app lets you record VoIP calls as well and set custom alerts according to your monitoring needs.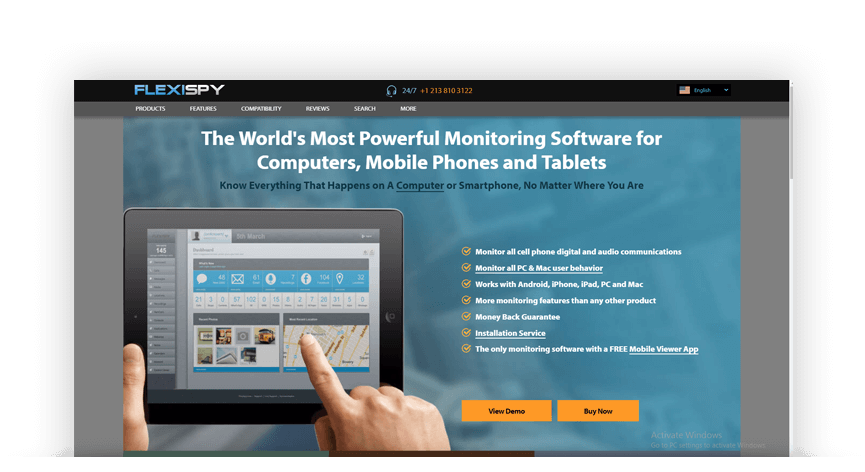 Compatibility
Flexispy is perfectly compatible with both iOS and Android devices but in order to fully enjoy the features on an iPhone, one has to jailbreak the device.
Check out the compatibility chart for Flexispy below:
| | |
| --- | --- |
| Android | iPhone (Jailbreak) |
| 4.0.3x to 8.1x | 6.x to 11.1.2 |

Price
You can choose from the Premium and Extreme packages to spy on someone's phone. The yearly Premium package costs $149/month. And the yearly Extreme plan costs $349/month.
Rating: 8.0 out of 10.
Final Words
If you go through all of these apps, you would find that all of them offer similar basic features while a few of them offer advanced features at very high prices. Taking all that into consideration, we rank Xnspy as the winner because it offers both basic and advanced monitoring features at a very affordable price. None of the apps offers such advanced features in such an economical budget. The app performs really well. The customer reviews of the app suggest the same. If you want to sneak on someone and catch them doing something they shouldn't, then Xnspy is your best bet to do so.