Love traveling or travel to different cities for office work? If yes then knowing about the weather condition of the destination is very important. Whenever you travel to a new place it is necessary to get updates about the weather which you can get easily from any weather App.
In this post, we're going to share the best weather apps for Android smartphones that will help you to let know about the weather condition of the place where you'll travel.
8 Best Weather Apps For Android Smartphones
Finding the best of the best weather apps for Android was not an easy task because of the plenty of the options available on the play store, but we have arranged the best apps on the different features basis.
1.AccuWeather
AccuWeather's forecast and dry weather updates help you plan in advance.It displays the current temperature updates and local weather maps which makes it easy to escape the rain or humid temperatures.It provides you hourly basis weather updates.
Its so popular that some of the Samsung phones have inbuilt weather app is an Accuweather.AccuWeather's live weather reports give you the forecast, exact temperature, and rain alerts for an impending monsoon or weekend weather updates for dry weather wherever you are.
2.1Weather
1weather is also a popular weather app available on play store. Whether you want to check the temperature, precipitation forecast, Doppler radar, or simply keep up with the current phases of the sun and moon, 1Weather has you covered.
It offers a wide range of weather condition such as feels like Temperature, Wind Speed, Visibility, Humidity, UV Index, Barometric Pressure, Dew Point, Percentage Chance of Precipitation for the Next Hour (POP).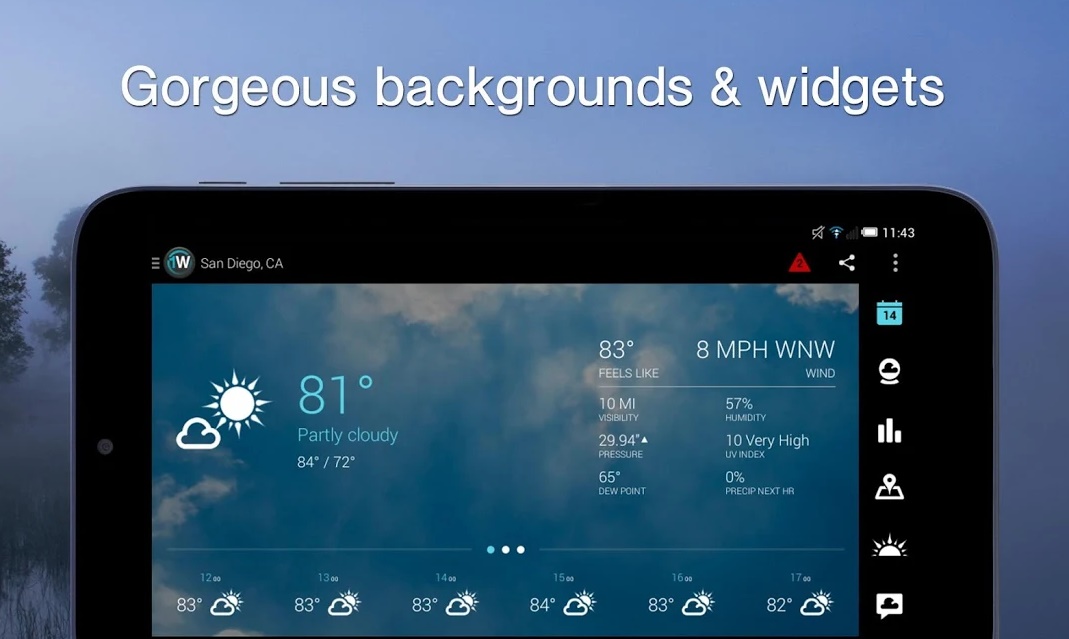 3.Yahoo Weather
Yahoo Weather displays weather forecast and helps you to prepare for your day with the most accurate hourly, 5-day, and 10-day forecasts. Stunning Flickr photos match your location, time of day, and current conditions.
Yahoo Weather app is a free Android app which you can use in your smartphones to get the weather update easily.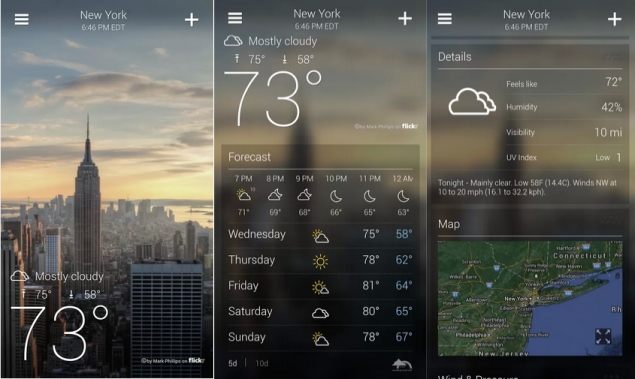 4.Weather by WeatherBug
WeatherBug is an another best Weather app of this list which has many cool features such as spark lightning alerts, 18 Animated Maps, and others.
WeatherBug, the best free weather app, powered by the world's largest network of professional weather stations, providing the fastest weather alerts, real-time weather conditions, accurate hourly forecasts & 10-day forecasts.
5.Weather Underground
Weather Underground Android app provides the world's most accurate hyper-local weather forecasts in addition to interactive radar, satellite maps and severe weather alerts.
It is Powered by a unique community of weather enthusiasts reporting live data from weather stations in their own backyards, this crowd-sourced data generates forecasts targeted to your precise location.
6.MSN Weather
MSN weather is designed by the developers of Microsoft corportation, it shows clear presentation of weather data in one screen, including hourly forecasts.You can quickly access the day drill down, hourly, daily, and 10-day forecasts, and historical weather averages and can also check wind, visibility, humidity, barometer, dew point, and chance of precipitation.
Its allows you to sync your favorite cities across MSN Weather on the web and your mobile apps automatically for quick access to the places you care about.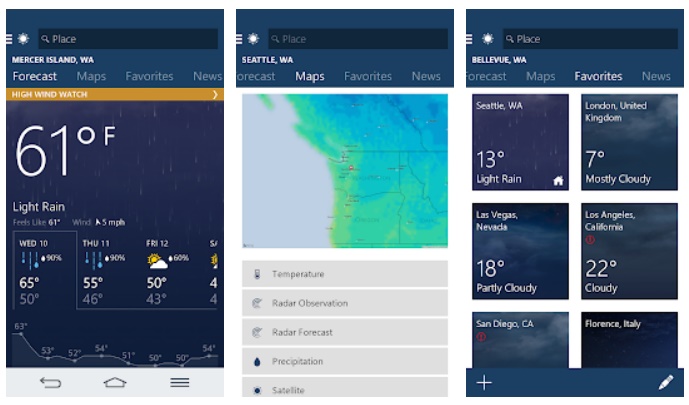 7.The Weather Channel
This free weather app let you know the latest local weather forecast news by delivered directly to your phone or tablet with and prepare with real time severe weather reports and live radar maps.The Weather Channel provides accurate real time reports that can help you plan up to 15 days in advance.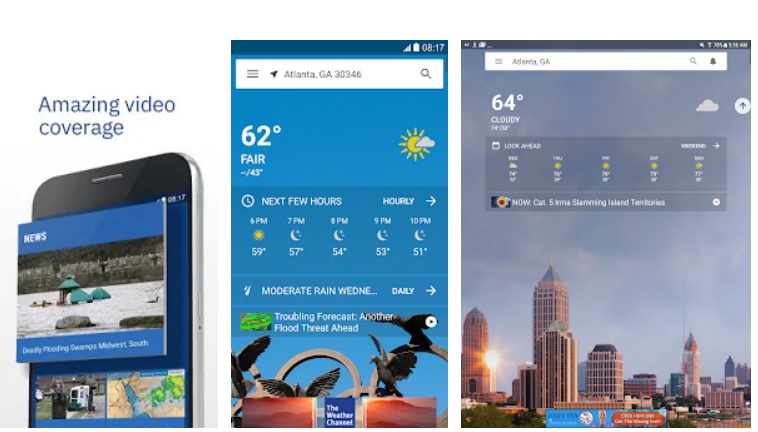 8.Awesome Weather
Awesome weather works similar to other best weather apps for this list, but the one feature make this plugin to be in the list is that it changes the landscapes background according to the season and timing. It displays the sunrise background in the morning and sunset background in the evening.
It's not only fun, but Very accurate live weather app. It is so fun to see the trees and bushes moving when it's windy, then look out the window and see the same.