That was the good old time when we use to send text messages through SMS, but now this place is almost acquired by the other messenger apps on which you can chat with the help of internet.
Applications like Whatsapp and We chat completely replaced the text messages, now we chat and share important things like a link, audio files and other using such apps.
Although, these apps come with many great features yet some of the people like to go with the old school thinking. They use SMS to send a message to each other and for these peoples, we're going to share the list of Best SMS apps for Android phones.
8 Best SMS Apps For Android Phones
1.Mood Messenger
Mood Messenger actually changes the way you use your default Sms app. Using this app is fun and it also provides you with better and more features than your phone's default SMS app. In this app, you can customize almost everything and you have access to awesome features like the typing indicator.
There is an option to use light or dark mode and change the bubble shapes and colors for all chats or individual chats. You can also set chats to pop up as "chat heads.
Bubble shapes & colors
Backgrounds & over 100 themes
Fonts & text size
Notifications (LED, sounds, vibration, format)
Animated Emojis
iOS, Android or Emoji One style emojis
Choose over 100 free themes
Dark mode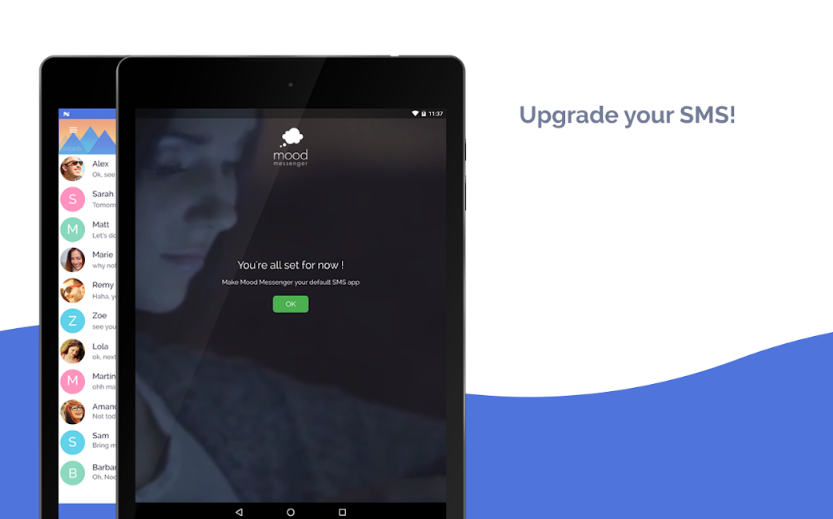 2.Textra SMS
Textra SMS is an another Sms app which replaces your default SMS app. It comes with great features, notably 180+ material design theme, bubble & app icon colors. It has a dark, light & auto-night modes which prevent your eyes in the night.
It also multiple bubble styles, scheduled (future) SMS & MMS, stop during send, slide to delete, slide to call, quick snap camera, multi-select picture gallery, quick reply popup, awesome MMS GROUP messaging, quick voice memos and other features.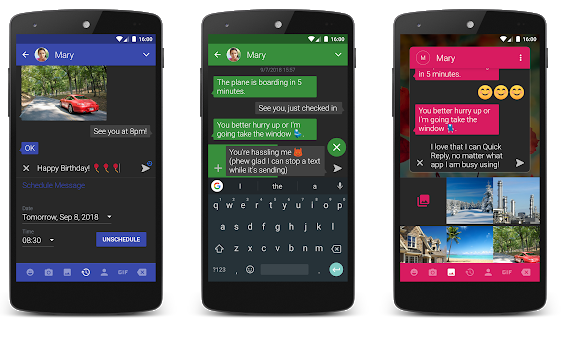 3.Pulse SMS
Pulse SMS is a seriously beautiful and next generation, SMS & MMS app which is fast, secure, and packed with all the features and customization you could want. This app re-imagines your messaging experience by making your messages available, seamlessly, across all your devices. It is free to use on the phone and is jam-packed with features
Features
Password protected, private conversations
Share GIFs from Giphy
Powerful searching conversations
Automatic backup and restore with an online account
Preview web links
Delayed sending to give you time to edit or cancel messages you send
Automated replies based on contacts, keywords, and driving/vacation modes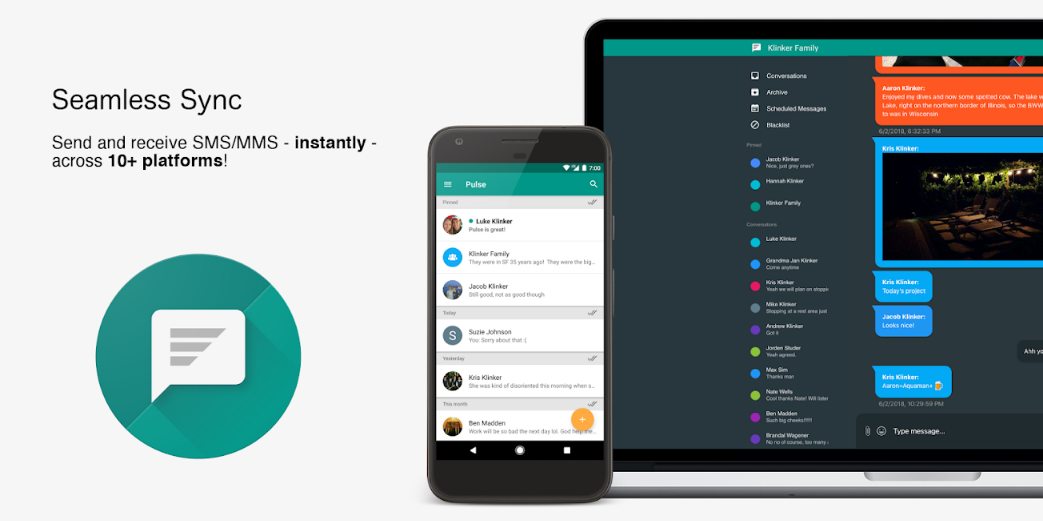 4.SMS Organizer By Microsoft
SMS Organizer is an another featured packed best SMS app for Android phones which is the perfect alternative to your stock Android messaging app. It has a similar feature which mostly seen in the Google Gmail "Categories of Mails".
It automatically organizes all your SMS into Personal, Transactional and Promotional category to help you declutter your SMS Inbox so that you never miss an important message.
5.Handcent Next SMS
With Gorgeous themes and backgrounds, handcent SMS app manages to be in this best SMS apps list. It is the most customizable, powerful and the best SMS messenger app.
Handcent has a pop-up features which let you reply your messages quickly with pop up window, it can even show over the lock screen. Handcent Next SMS text messenger app now has new look and functionality, try it to explore more.
You can also schedule texts to be sent at a given time for example birthday wish at 12′ O clock. Now with this app, you don't have to worry about losing your texts with their newest backup service. Easily restore all your messages (SMS / MMS).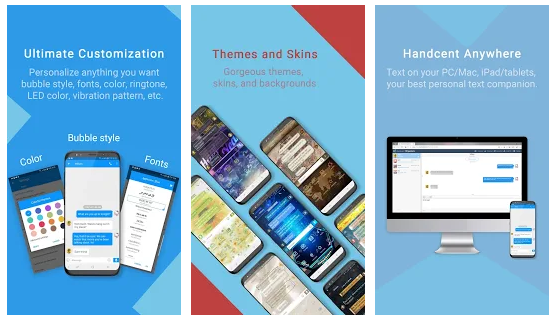 6.Messages By Google
Messages, Google's official app for texting (SMS, MMS) and chat (RCS).Stay in touch with friends and family, send group texts, and share your favorite pictures, GIFs, emoji, stickers, videos, and audio messages.
The best thing about this app is you can send audio messages, emoji, stickers, or your location. You can also send and receive payments with Google Pay.
Features
Clean, intuitive, and comfortable design
Easy sharing
Richer conversations
Powerful search
7.EvolveSMS
EvolveSMS is a powerful texting replacement app that makes talking to your friends quick, fun and easy! It's been designed from the bottom up with the newest Android design guidelines in mind to look beautiful and function just as well.
It has add-on themes, the vast number of built-in Material Design themes, and the wealth of notification customization, which guarantee you to never get bored with this app!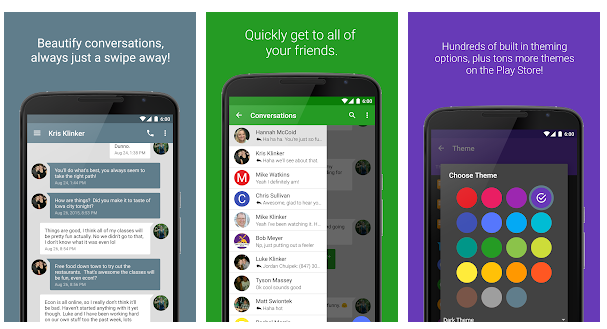 8.QKSMS
QKSMS is ads free and open source completely, you can use a custom color theme from the millions of color for every single conversation. With Per-contact notifications, you can easily prioritize and distinguish your messages.
You can also set manual and automatic night mode which turn on automatically in the night. The best thing about this app is its privacy feature. It has a should I answer? a feature which easily block conversations and manage your blacklist.