10 Best Android apps for Bloggers and Influencers
Andriod is one of the major Operating systems and it has approx 2 billion users which is more than Windows itself which have 400 million, active users.
In this post, we're not comparing Android and Windows, we're just trying to show that Android has a very good amount of user base so few of them must be a blogger. There are some Android apps for bloggers that can help you to write and manage your blog from your Android without using computer and laptops.
Best Android Apps For Bloggers
1.Grammarly Keyboard
When you write you need to make sure that you're not doing any mistake while writing any blog post or reply to any comment on your own blog. These kinds of mistakes make your readers untrusted on your writing skills and knowledge as well.
Grammarly Keyboard shows the mistakes while you write anything using this keypad app and corrects it in real-time so that you won't write any wrong sentence.
2.Evernote
Evernote is a creative Android app which can be used for creating short notes, writing short stories and articles for the blog, etc. You can scan handwritten notes. Add to-do's, photos, images, web pages, or audio.
It is a cloud-based tool which can be available on any screen by sync automatically across any computer, phone or tablet. You can set reminders, annotate documents with additional comments and notes.
It is the most preferable tool for bloggers and other business professionals.
3.Pocket
Pocket is similar to Evernote with few fewer features, but with a clean and simple design and layout. Pocket is a save it now and enjoy it later kind of app using which you can save articles, news, videos, and complete web pages, etc.
Once you saved the content in Pocket, you can view and access the content whenever you want even when you're offline because of network or you're in flight.
4.Writer
A writer is a simple tool that only used for one purpose which it does perfectly. This app is a simple word processor which can be used to write ideas about new blog post, article. You can write complete articles on this word processor tool and save it in your phone memory.
In the upcoming version, they probably allow you to share documents through email and synchronize your documents using Dropbox and Box.net.This app has only one drawback, it is now available for Android devices only.
5.Buffer
Buffer is a social management app which helps to manage all your social networks. It doesn't matter you're an influencer or a blogger you need to manage your social networks profile to become popular. Buffer has many features and "schedule posts" is one of them.
With the buffer, you don't need to install other social network apps, log in through multiples screen and apps. You can do it all by just installing buffer app in which you can access almost all major social network including Facebook, Instagram, twitter.
6.Snapseed
Snapseed is a photo editor app available for both Android and IOS devices. Using Snapseed, you can edit your images with more than 25 inbuilt tools which come included filters, healing, brush, structure, HDR, and others with this app.
High-quality images are the need of the blogging, you have to publish articles with images in which you have to edit images, and this work becomes easy with snapseed.
7.Blogger
Blogger is one of the major blogging platforms which is used by many bloggers. Using this tool anyone can create its free blog and if you're one of them, then you must have a blogger Android tool on your phone. This tool can help to blog wherever you want to start writing the blog.
Just install it on your phone and start creating a new blog post, edit existing blog posts, use almost all the features of blogger dashboard, upload images, create links and much more. This app is not available for IOS devices, so you have to use a third-party app "EasyBlog" to access blogger using Apple devices.
8.Flipboard
Flipboard is my favorite news and stories place where you can get information, news, and stories of worlds. Nothing is much important than getting updated about your blog niche and this tool shows trending news all around the world and shows you your interest area.
Flipboard lets you choose the topic and shows you stories category wise, this tool gathers information from different websites and displays at one place. You can also select your region, area, and country. Availability to use on both Android and Ios Devices makes this tool more preferable.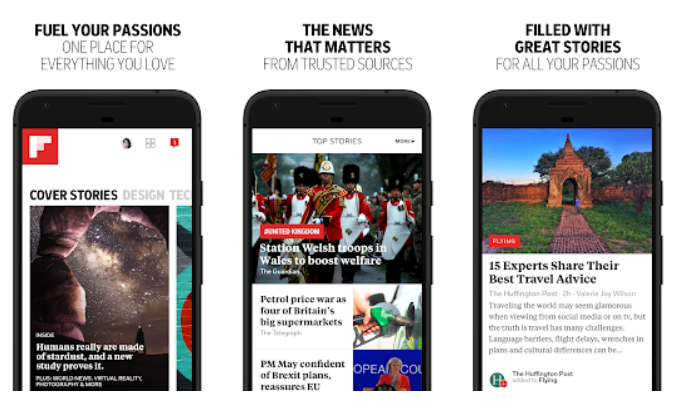 9.Chartbeat
A website worth is determined by the number of visits it receives, so it is important to keep an eye on how much traffic your blog or website is getting. There are plenty of free and premium tools available which shows you near to accurate traffic insight, but showing directly on your phone is not possible for all tools.
Chartbeat is one of the best tools for getting updates about website traffic and other traffic insights. It is available for Android devices.
10.Sinium SEO Tools
Last Android apps for Bloggers is Sinimum which is an SEO tool for your blog that can help you in different ways. It is a  collection of 50+ most powerful search engine optimization tools you will find in the market today. The app is completely FREE to use, the Ads can be removed for a small fee.
Sinium works perfectly on Android and offers multiple features to use at one place, you just need to install this app and you can do most of the things SEO does on 0daily basis000000. This to0I has major features such as MozRank, Broken Links Finder Keyword Density, Keyword Suggestion, and others.