Do you like hiking, explore new places or do road trips with your gang?If yes, then probably you need an offline navigation app which helps to navigate places where hardly any network can reach.
There are several navigation applications available on the Play store, but not all maps are created equally.In this post, we have arranged the best offline navigation app for Android that can help you to navigate your destination even when you're offline.
Best Offline Navigation App For Android
The following offline navigation apps for an Android phone are short-listed from the several navigation apps. Many will work offline as well as online, so you don't need to worry about having a data connection all the time either.
1.Google Map
Everyone uses Google Map for navigation whenever they travel around the world.Google map has an inbuilt offline mode which is hardly known by the users.This feature lets you use navigation even when your phone doesn't have the signal.
If you want to use it offline, you'll need to download the area of the map that you want to use in advance. If you do that, you obviously don't get those traffic updates anymore though, as they require a connection.
In the new version, Google Maps on Android got a few new offline features, like the ability to download multiple areas to your phone and select to use Google Maps in 'WiFi-only' mode when you have a spotty network connection.

2.HERE WeGo
Similar to the Google Map, Here maps lets you get directions and use navigation without an internet connection.Before using the offline feature, you need to download the map for a specific area where you are looking to travel.Using Here map you can download maps from more than 200 countries.
The only disadvantage this application has is the huge size of the offline file when you download the map.File size can go to few hundred megabytes, to a couple of gigabytes, depending on the size of the map being downloaded.
3.Maverick: GPS Navigation
Maverick is another offline navigation Android application which helps to use offline maps and GPS even without an internet connection.This app is great for hiking, boating, geocaching and other outdoor activities.Build-in radar shows the direction, distance and estimated time to a point of interest.
It has multiple global and regional online maps, including Bing, Yandex, Open Street Maps, OSM Cycle.All maps automatically cached for offline use. Use Mobile Atlas Creator to download maps or MAPC2MAPC to convert maps from other formats.
4.MapFactor
MapFactor Navigator is a free GPS navigation app with free offline maps from OpenStreetMap.You can navigate without an internet connection in more than 200 countries. Intuitive voice turn-by-turn navigation in different languages, speed limits, camera warnings and many other useful features.
OSM maps are created and updated by the community of volunteers at www.osm.org. OSM maps are updated every month for FREE. Optional TomTom navigation maps and postcodes available.
5.MAPS.ME
MAPS.ME uses data from OpenStreetMap, meaning the data retrieved from that service is a community-based map. Anyone can freely edit and contribute to the map, a map concept that is similar to Wikipedia.
It is a Free, fast, detailed and entirely offline map with turn-by-turn navigation which can be used without internet connection.The additional features are driving, walking and cycle navigation anywhere in the world.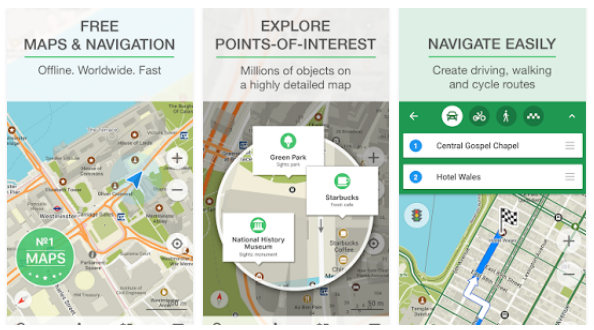 6.GPS Navigation & Maps Sygic
Sygic is the world's most installed offline GPS navigation app with real-time traffic for Android with free 3D offline maps from TomTom.
Sygic offers the most accurate real-time traffic information with data collected from 500 million users worldwide, provided by global automotive, mobile operators, mapping & traffic information suppliers.
After 7 days you can continue using the basic features or upgrade to the Lifetime Premium license.