Everyone loves free music, but finding free music isn't easy nowadays as used to be.As we know that piracy is no longer is the primary source of free music and we can find the free music without using any torrent website.We have arranged the list of 'top 10 free music apps for Android'.
Top 10 Free Music Apps for Android
Here is the list of top 10 free music apps for Android devices.Thes apps allow you to live streaming music and radio, you can listen to good quality music wherever you go.It is the best way to listen to legal music without using pirated music CDs and files.
Soundcloud needs no introduction because it is already used by million of Android phone users.It is a free music app as well as a premium app.You can select music genres such as Hip-hop, jazz, rock, metal and others.
You can also listen to your favourite artist's songs, a hot list of music and much more.you can listen to the stream wherever you are using WiFi or data.It is a complete music package which you needed to listen to free music.
Features
Discover new music
Listen to your favourite tracks and artist.
Create the playlists for occasions, parties or Workout.
Play, pause and skip tracks from lock screen
Same as SoundCloud, Spotify is also a popular app which is used by millions of Android users.Previously user has to pay for the music, but now it is free for the mobile and tablet users which means you can use Spotify on your Android devices for free.
You can listen to artists and albums, or create your own playlist of your favorite songs.It also has shuffle option which is rarely to find in the live streaming apps.
Features
Play any artist, album, or playlist.
It has the shuffle mode.
Amazing Sound Quality.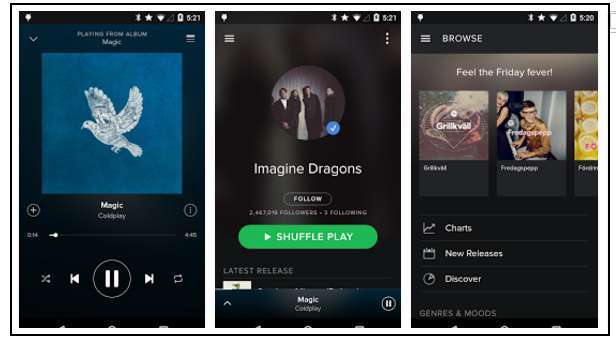 Google Play Music is quite popular just because it allows you to upload up to 50000 tracks to the cloud for listening whenever you want.Just start radio stations based on songs, artists, or albums, or browse by genre, mood, activity, decade.
The free version of Play Music lets you stream your music and listen to various curated playlists.You can also combine your online and uploaded music tracks.
Features
Radio curated by experts for anything you want to hear
Store up to 50,000 songs from your personal music collection
Discover and subscribe to podcasts
Smart recommendations based on your taste
Listen on Android, iOS, and the web
Similar to other apps Deezer is also increasingly popular Android music application.he free version of the service lets you use Deezer's FLOW feature to discover new artists and you can listen to playlists and mixes based on your personal taste.
It also has lyric fetching, unlimited playlist creation, and mixes based on individual artists.No need to search for the lyrics on other websites you can search for the lyrics for your favourite songs.
Features
Listen to FLOW and discover new favourites
Enjoy all your MIXES, no limits
PLAYLISTS based on your taste
Search for an artist and launch their mix
Create as many playlists as you like
Get the lyrics to your favourite songs.
Shazam is one of the world's most popular apps, used by more than 100 million people each month to identify music, get song lyrics, and now to discover the music that artists discover themselves.
With shazam you'll get an update with new, latest and most popular tracks over the World which is the people are listening.It is a free app where you can search for the lyrics and listen to music at the same time.
Features
Search for the lyrics
Listen Latest music free
Enjoy Youtube videos at same place
Follow new artists
New discoveries from artists
iHeartRadio is also a free music application for your Android device.With this app, you can listen to your favourite songs with favourite genres.It's a radio app where you can listen to a variety of stations based on your individual tastes and it also comes with seasonal radio stations and things like podcasts, talk radio, and comedy shows.
It has FM and AM radio station which stream live on your internet data and you can even listen t news and sports.It supports Chromecast,Android Wear, and Android Auto support.
Pandora is the another radio app of the list, it is an old app and millions of Android users trust on Pandora to listen the latest music.You can sync your music, favourite station so you access your free personalized radio wherever you want to hear great music or comedy.
You just have to start with the name of one of your favorite artists, songs, genres or composers and that app intelligence does the rest.With Pandora, you can create the playlist of your favourite radio stations.
Jango is an another free radio application for android devices which allows you to listen to new songs for free.This app allows independent artists to pay for plays, meaning that you may hear a song that an artist paid to hear.
Jango can be a good app for you to hear legal music in good quality.Similar to the Pandora you Just have to start with the name of one of your favorite artists, and Jango will create a custom station that plays similar music. Or you can tune into hundreds of expertly programmed genre stations like Top 100.
TuneIn Radio includes in the club of the great and most popular Radio app.It has millions of download which make this app popular among the young generation.With this app, you can listen to your favourite music anytime anywhere.
TuneIn Radio streams your favorite AM/FM radio stations live including ESPN Radio, NPR, CNN, BBC, WFAN, & CBS Radio.It holds the good position in the club of radio station app with up to 100,000 stations.It has the largest free selection of sports, news, music and talks radio from around the world.
Slacker radio isn't popular as other applications are like Spotify, SoundCloud, but slacker is a wonderful application for music and radio lovers.With Slacker Radio, you get free access to music programming from weekly countdowns to top genres and artist-hosted original programs.