How To Block Spam Text Messages On Android
Text messaging are one of the fastest and easiest methods to communicate with each others.It is widely used all over the World so, it increases the chances of getting spam messages to because most phone users send text messages to each other.
If you receive messages from unknown numbers like 55344, IFD-11542 and they offer you some great deals and plans of insurance, Hotels and other things then you're getting spam messages on your phone.
How To Block Spam Text Messages On Android
There are plenty of Apps available on the play store which block spammy messages before you receive any message.See the two different methods To Block Spam Text Messages.
Method 1.Default Message App
Every android phone have at least one messaging app where users read and send messages.Some of phone's have two or three, but you have to block text messages from default app.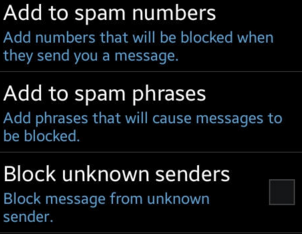 Now open your default messaging app and the open setting option of the messaging app, click on the spam filter if your phone have, now enable the spam filter option and select the options.(See the screenshot)
1.Add To Spam Numbers: You can add the specific contact numbers from where you don't want to receive messages.
2.Add to Spam Phrases: You can add specific phrases like " Get Best Deals", Listen to music and others which are spammy for you.
3.Block unknown Senders: You can block all unknown senders which numbers are not saved as a contact in your contact list of the phone.
Note: Some of the phone may don't have the option of spam filter option so you can use SMS blocker with you default messaging app.
Method 2.Use Third party Android App.
The second method is using third party app which can be used as default messaging app.We're talking about SMS blocker clean inbox android app which is available on the internet for free and also comes in the premium version.It depends on you that you want to use its free version or premium.
SMS blocker clean inbox completely changes your default inbox and make SMS blocker as the default app for Messaging which gives control over your messaging so you will not receive any spam or unwanted message.
SMS blocker block senders, block numbers from a specific series and also from a specific word.
Method 3: Contact with your Network operator
The third and effective method is to contact with your network operator and ask to block spam messages and those messages which are sent yours for an offer.You can also block a specific number by contacting your service provider, but your network operator may charge some fees to block the numbers.