How to Place ads anywhere in WordPress Blogs

Our today's post is about 'How to Place ads anywhere in WordPress Blogs',with this tutorials and tips you can place ads any where in your blog or in website.Every one is using WordPress  for blogging because of its easy user interface but placing ads on your WordPress blog isn't easy.All blogger create blogs to earn extra money and advertising is a great way to earn money from your blog.
New blogger who doesn't know PHP language can't place ads in WordPress without help of any code insert plugin.that is why in this post I am sharing some best Code Insert plugin to place ads in your website.
List of  Advertisement Code Insert
Code insert manager allows you to place html, css, javascript and PHP,it means you can insert ad code of any ads publishers like Google Adsense,Chitika, Bidvertiser these are tested and others can also support this Code insert plugin.
Hanna Code Insert is also another great tool to insert ads and other short codes anywhere in your page or blog post. HTML and JAVASCRIPT or even PHP and ads code can easily placed anywhere.
With WP Simple Adsense Insertion,you can ads Adsense,Chitika,Bidvertiser and even toughest Google Double Click for publishers,you can also place ads in side bar and in footer area.
Display Google adsense ads also Display other publihsers like Chitika,Bidvertiser and Clicksor ads.This Plugin is easy to use and thousand of users are using this plugin.
Advanced Ads codes insert is actually a Advanced and smart Code insert which place your ad code smartly and also optimize your blog ads.This plugin is one of the best code insert plugin.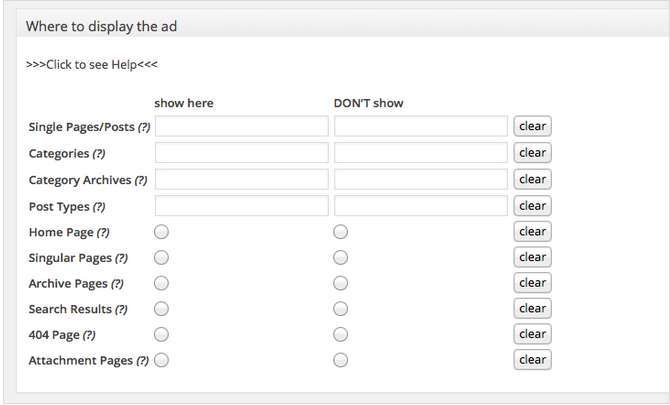 Conclusion :
All the Plugin which are listed are great and easy to use,but I recommend plugin number 1.Code Insert Manager (Q2W3 Inc Manager) I am also using this plugin and it is working with all ads publishers and display ads correctly.If you want to use plugin which is not complex then the answer is Code Insert Manager.