[UPDATED]
Email subscription list building is the easiest way to get more blog reader on your blog, whenever visitors read your article, they'll subscribe your blog only when if visitors found the exact information they want.When you published a new post subscriber get an email which contains all the information about your new blog post, this will help to increase your page views.This type of emails also known as promotional email.
Importance of blog's Email Subscribers
A blog without readers is worthless, in other words if no one read your blog post it means your blogging career is very dark.Without the audience, you can't do anything but if you can engage readers then your blog can earn huge money.Organic traffic is the main source of traffic but traffic, through email is also one of the greatest sources.
Whenever you publish a new article the link of your post will be emailed to your subscriber and if subscriber interested in your blog's new post then the subscriber will visit your blog.Building email list directly increase your blog visitors and page views.
How to increase your blog's email subscribers quickly
To build an email list of your blog you need to attract your visitors to subscribe your website but how this is possible?
1.Popup Box/Window: Pop-up window is a box which open in front of your blog's content on the upper screen.Pop-up box will help to attract visitors to subscribe your blog feed.I'm using "PopupAlly" WordPress plugin but if "PopupAlly" is not working on your blog you can use others plugins or if you have a statistical blog you can create an HTML pop-up box.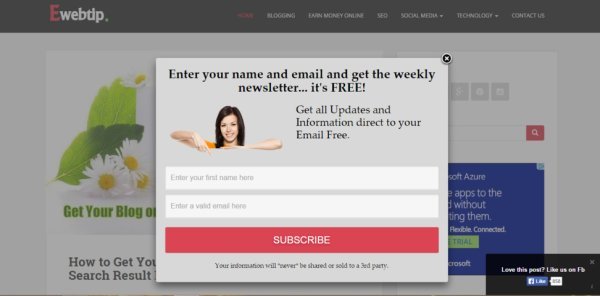 2.Subscriber Client: Choose the best client which enables subscription on your blog.If you need premium service from client choose amber but this is premium you must have to pay to get more but if you want a free client use Google's feed burner.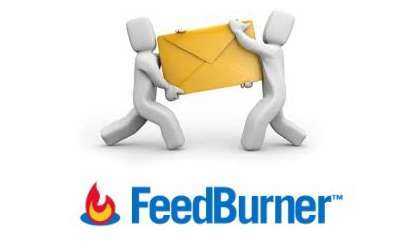 3.Registration For all: Enable Anyone can register option in your WordPress blog and select New User Default Role as a subscriber.Every visitors who visit your blog wants to register on your blog.After getting subscriber go to your user's option and click on all users.You can get all information of your blogs' subscribers.Copy all the email Ids and invite them to subscribe your blog on Feed burner or from other subscription clients.
4.Social networks: Get email Ids from the social networking website like Google + contacts, Facebook contacts, twitter contacts.You can invite peoples from their email ids.Just get email ids and send email from your subscription form.
How to Invite Peoples from their Email Ids
After creating a list of Email, ids send emails from your email address to peoples this is also known as Email Marketing.You can subscribe with their email Ids they do not subscribe blog unless they click on confirmation link or button.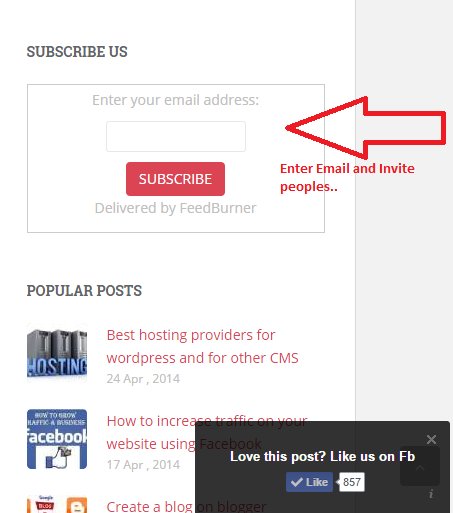 I hope you enjoy this article, for any query comment or connect with us or send email.These tricks are working tricks.