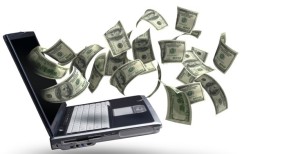 Believe it or not, but you can earn money with video sharing websites by sharing your videos and photos on video hosted websites such as youtube, Break.com and others.Making money is really possible on the internet, but before you need complete knowledge about making money online.
There are different ways avilable on the internet from which you can earn money and some of them are making money from Affiliates, Reseller hosting, reading emails and messages, make money from Facebook and twitter and others.
Today we're sharing about video sharing website which will let you make money with video sharing websites.You don't need special skills to earn money from these video sharing website, just need a camera or video and internet connection.
Earning money from this website are quite simple, video sharing websites using simple revenue sharing method to give you your revenue share.They provide you the place to host your videos and in return, they run advertisements on it.Impressions and clicks on advertisements lead to increasing the amount of money you'll get.
Earn Money with Video Sharing Websites
Here is the list of best video sharing websites which will let you earn a handsom amount of money in less time by just sharing your videos on their website.
1.Youtube
Youtube is a major video sharing website and mostly everyone already knows about this website.Youtube is the best platform to host your video and in return you'll earn a huge amount of money, but only when if you some simple rules.Before earning money from youtube you must have an Adsense account.
You can signup to Youtube from your Google account, after you signup to google create a channel and upload your videos with unique names and tags which relate your videos with tags and make unique from other videos.
After that, you can monetize your videos and verify your youtube channel with your Adsense account.
Here is the Youtube Hacks which make your life easy.
Dailymotion is a website similar to youtube.com.These are authority website where millions of peoples visit regularly.This website gets more than 190 million visitors per month and more than 190 million visitors if we includes 3rd party websites who are sharing its videos.
Video monetization earns you a share of revenue every time an ad is served on one of your videos. Many videos are served with in-stream advertisement—ads that appear before, during, or after videos. Get started by uploading quality content and sharing it to cultivate an audience. As your view counts rise, so will your earned revenue.
Break.com is the third website of this list and this is the best alternate if you failed to earn money from youtube and dailymotion. Break.com allows you to upload your videos, photos and flash games too.If your videos make it to the front page of this website then you'll get $2000.
Break.com allows visitors to upload images, and users get $25 if any image of the user will  become a part of the Gallery of the website.To earn money from this website you need a Paypal account where break.com transfer your money.
Vimeo is one of the biggest video based websites with more than 15,000,000 page views for every month.  At this website, you can earn money by uploading videos and share videos.You can direct sell your videos directly to your fans and can host on vimeo.
Vimeo is a popular website and getting millions of page views regularly and you can get benefits of Vimeo popularity.
This is a popular video sharing website. This uses the targeted ads strategy and uses the AdSense ads. The wonderful thing about this website is it allows you to use  such videos also that are not yours but don't fall in copyright domain.
Same as youtube.com you can earn money by sharing your videos from AdSense advertisements.
Final Words
So, these are the best video sharing websites where you can Earn Money with Video Sharing Websites just by uploading your videos on these sites by following their terms of service. Hopefully, you have liked this post, so share with your friends at your social profiles.