In the previous article we create an article on 5 Best Screen Recorder For Android Phones, these screen recorder the beneficial for the blogger and YouTubers who make an Android tutorial, but after recording the videos a blogger needs to edit the videos to make tutorials more professional and worthy.To make editing videos easy, you need the best video editor for Android phones.
In this article, you'll get know about the best videos editor for Android phones.These Android video editor apps will help you to add different elements in your videos such as funky text, images, new layer, effects, icons and much more.The advanced features of editing apps include advanced elements like adding background audio, merging videos, adjust the frame rate to make videos slow or fast.
Best Video Editing Android Apps
I know you're eager to know that these apps are free or paid.These Android apps are not fully paid nor free.You can use most of the features for free, but some of the apps show the watermark in your videos.
These apps don't cost you too much, but the watermark is not spoiled your brand so purchasing the pro version will be a good move.
1.KineMaster
KineMaster is one of the best and most preferred Video Editor for Android Phones.KineMaster works well in any kind of Android device and version of Android.This is my personal favorite video editor because it offers one of the most desired features "Change the Background" in the video.
KineMaster has a wide range of amazing features which help to make your amateur videos to professional.The features include changing the background and transition effects.Editing video in Kinemaster is a piece of cake, no matter you're a professional or amateur you'll end up making professional videos.
Kinemaster allows you to unlimited without paying a single bug, but you can't remove the watermark until your subscribe for the pro version of this app.The cost of a subscription varies region to region, but it won't cost you too much.
2.FilmoraGo
FilmoreGo is not the second best video editor for Android phones.It competes for head to head with the Kinemaster Android app.Only one thing I can't do with the Kinemaster is adding text and title in the videos using different templates.Unlike Kinemaster, Filmora offers you the best and creative text & title templates for the videos.
FilmoraGo is a professional video editor app for Android phones, it offers you plenty of features and elements to add to the videos.Editing videos in FilmoraGo are very smooth even amateur and first timers can also edit videos like professionals.
It is a pretty powerful video editor application, which will not stamp a watermark or place a time limit on your clip, so you don't have to worry about your branding.You can easily show your own website or channel logo at the place of FilmoraGo watermark.
3.VivaVideo
VivaVideo is a popular Video editor app for Andriod phones, you can easily trim your videos and can add different themes, filters, video effects, titles, and transitions.It is a professional video editing app which is perfect for the YouTubers to make your Android tutorial look cool & professional.
Editing in VivaVideo is quite smooth and easy,  you just have to edit videos like other photo editing apps in which you select an option, filters, themes and other things.In the VivaVideo app, you can merge two clips in storyboard editing mode.
You can add fast/slow motion to your video, making your video with a professional-looking and sharing with your friends easily. The free VivaVideo will come with a watermark and a limited time for your video.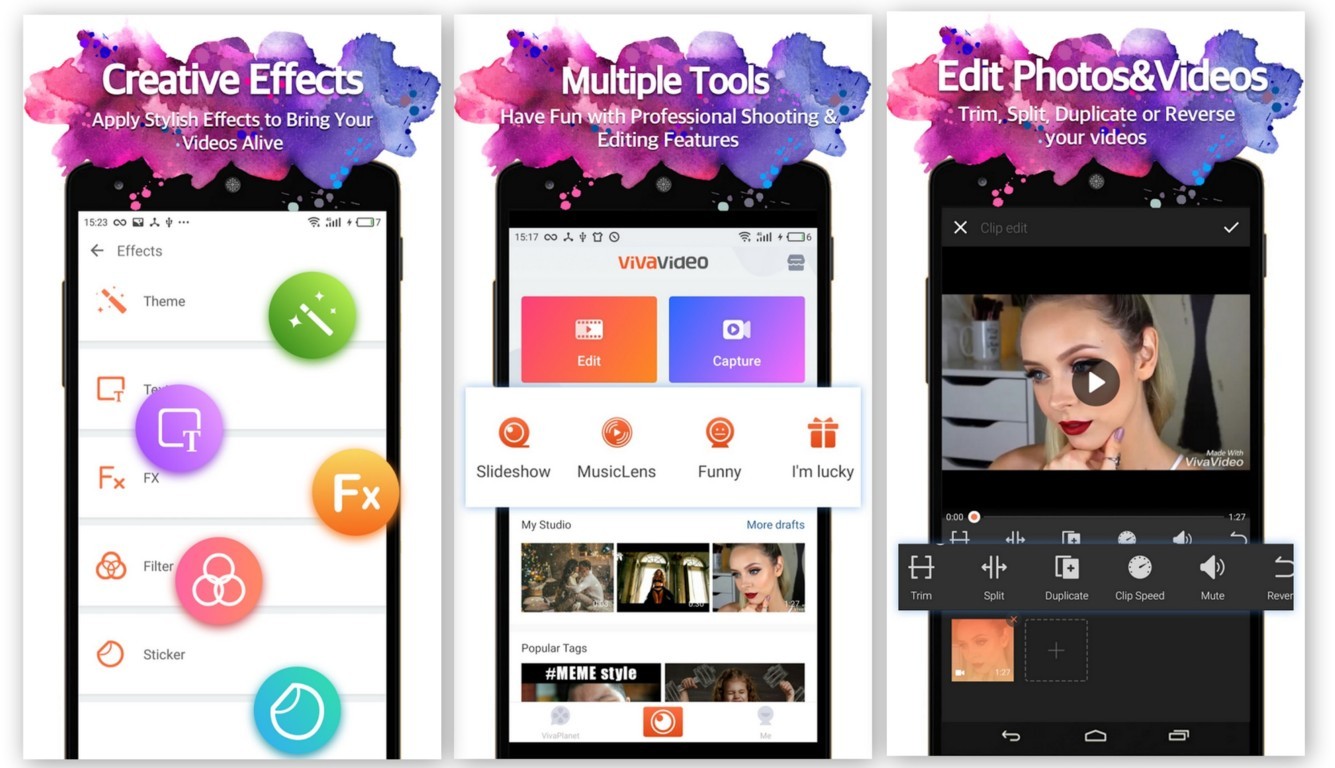 4.VideoShow
It is an amazing Android app which has many downloads on play store.It is a free Android app which lets you edit any type of amateur videos.It comes with additional features like voice to video recording, multiple texts to video with timings, video effects, music, trimming and exporting. You can easily edit your own videos and export it quickly with minimal effort.
VideoShow also allows you to express yourself in your own edited video using any effect, text, or music. You can even feature your own voice with ease if you want. VideoShow is perfect for people who want to create a short film in a snap without any watermark.
Similar to the VivaVideo app, editing videos in Video show is quite easy.You just have to add elements like we do while editing photos using any photo editing app.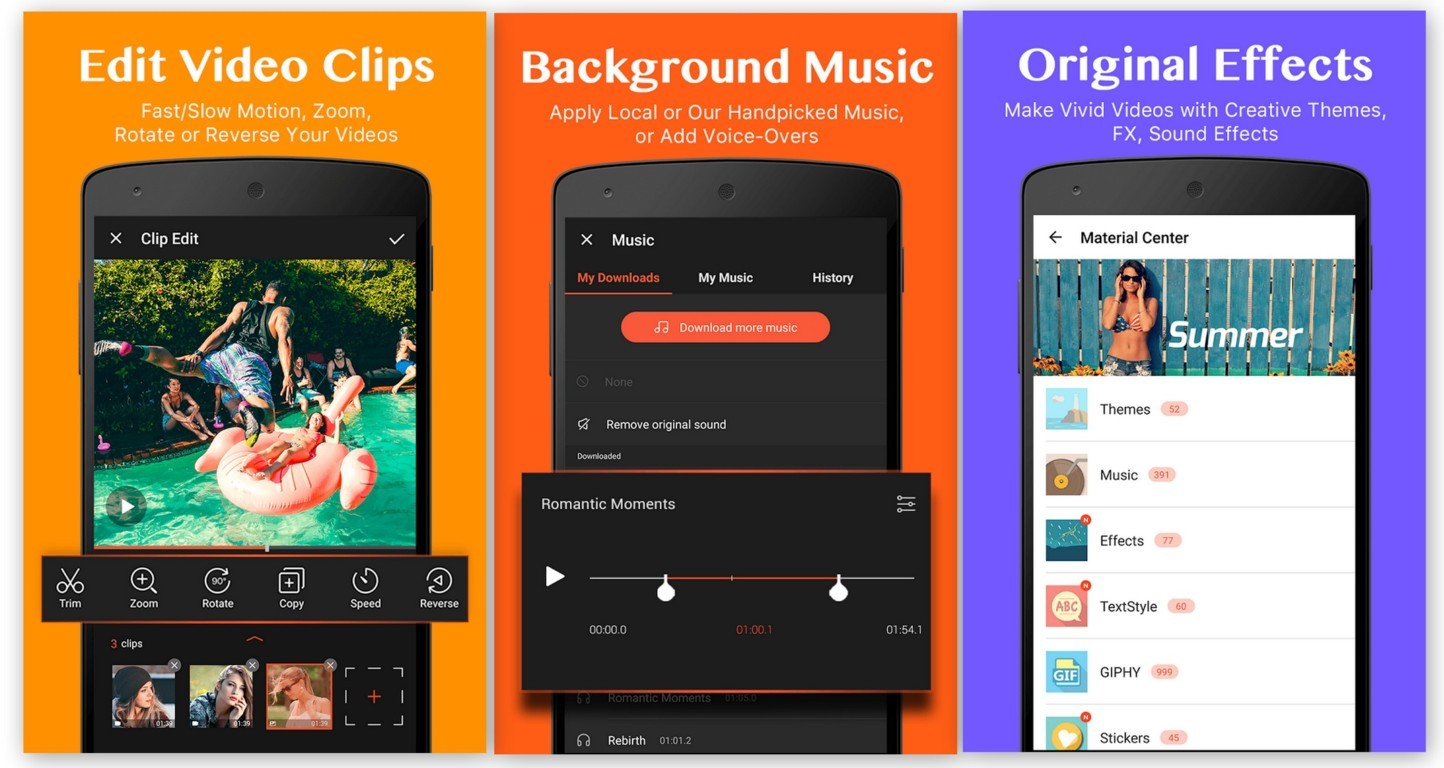 5.Adobe Premiere Clip
Adobe premiere clip is Android video editor app, it is a free video editing tool which lets you add some amazing elements in your video.Like the PC version of Adobe premiere, you cannot edit your videos with the full functions which PC version have.While using this app you will miss some features & functions if you have been using Adobe premiere for a long time.
You can edit your video with various tools, effects, and music. What's more, the app can create a video automatically using your images, if you do not want to do it by yourself.Add visual interest to static images. Turning the option ON will apply a slow, subtle zoom.Save finished videos to your gallery, share directly to Twitter, Facebook or YouTube, or send them to Premiere Pro CC for additional editing.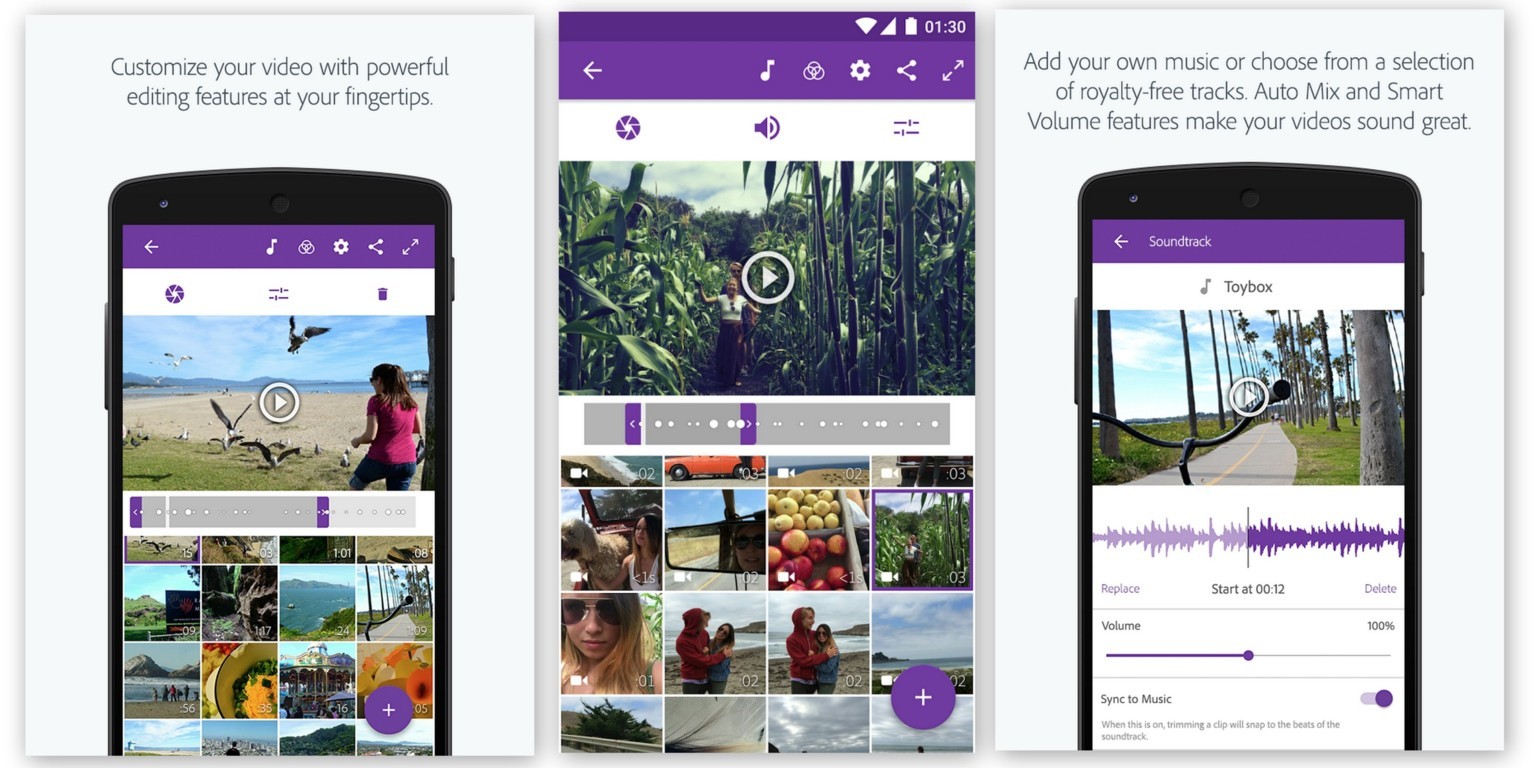 6.Funimate
Funimate is the most fun video editor app for creating awesome music video clips, lip-sync videos, slow motion videos and more. Add cool effects, music, text, and emoji to your videos and amaze your friends with your creativity.You don't have to be an expert, Funimate instantly transforms an everyday moment into creative and cool videos.
With its patent-pending technology, you can create awesome musical videos with unique real-time effects.You can try more than 20 advanced video effects on Funimate video editor & music video maker.Add your favorite music to videos, to make short music video clips with creative effects.
Besides all the awesome features, you'll also have classic video editor app features like merging, cutting, trimming and editing videos. Funimate is the only video editor & music video maker you need.
7.Video Editor by InShot
Inshot Video editor is a wonderful android app to edit videos.It is a fun app which lets you edit videos and add some amazing elements.This is not a professional editing app so do not expect more if you're looking to edit videos professionally.
This is the best Instagram video editor pro and photo editor with adding music, text on video, blur border on video, best for vine videos, dub smash videos, lip sync videos and Don't Judge Challenge videos!
As you can see that this app can be used to entertain your followers or making funny videos and dub smash.It has plenty of features which make your video funnier, but not professional like Kinemaster and FilmoraGO does.
8.Magisto Video Editor & Maker
Magisto Video Editor automatically turns your photos and video clips into magical music videos that you'll want to share with friends and family on Facebook, Instagram and more. Magisto video editor analyzes and combines your best photos and video clips into fun movies. Facial recognition detects the most important people in your photos and videos to create personalized movies you'll love to share!
Capture the moment; transform your wedding photos and wedding videos into elegant wedding movies. Easily turn your baby's first moments into adorable baby movies. Share a birthday video greeting card or recap your favorite birthday movie memories with our colorful birthday video editing styles.
9.Video Editor by WeVideo
WeVideo editor is a under-rated Android app, but it has lots of amazing features which allows you to edit videos easily.The basic features of editing let you add different themes to your videos which make your video more awesome.No to worry about if you do not like 2-3 themes of filters because you'll get 30+ unique video themes and video enhancing filters so choose the theme according to your choice.
You can cut the video to edit the selective part of the video, you can also add different effects and transitions with titles &captions.This app allows you to add the background music in your videos like your own voice, any song or royalty free music.It is a wonderful app that lets you save your video in HD.
10.Quik
Quik App automatically analyzes your photos and video clips to find the best moments, adds beautiful transitions and effects, and syncs everything to the beat of the music. Customize your story with music, filters, graphics and more. It's never been faster or more fun to create a video you'll want to share with everyone.
It is a free app that edits your videos for your social networks like for Instagram, Facebook, or you can also create dumbash videos using the quick app.It allows you to trim video clips and frame photos to capture the perfect moment.It has a wonder full collection of 80 audios which you can use in your video as background videos or you can also choose your own audio.