Read here on how to share blog post automatically on Social Networks.Sharing the new article on the social networks is very important if you want to get indexed on different social networks.
There are many ways to auto-share your blog post on the different social network and today I'm going to share one of them.With this tutorial, you 'll know how to auto-share your article link to 6 major social networks like Facebook, Twitter.
If you want to get index fast as possible on the Google, Bing, Yahoo you must have to share your link on the major social networks.
10 Best Social Sharing Plugins For WordPress In 2015
Use Jetpack to share blog post automatically on Social Networks
Almost everyone using jetpack on their blog, so it is very easy to enable the option of Auto share post on social networks.
As I told you that almost every blogger using Jetpack in their WordPress blog, so users do not have to use any other third party plugin.
Step 1.Download and Install Jetpack on your WordPress blog if you're not using Jetpack.
Step 2.Before using Jetpack you have to enter your WordPress.com.This Id and password helps to authorise your blog with jetpack.
Step 3.Now open jetpack Settings.
Step 4.Click on the Publicize option and click on the Publicize settings.
Step 5.Now a new page will open in which you can see the 6 major Social networks logos.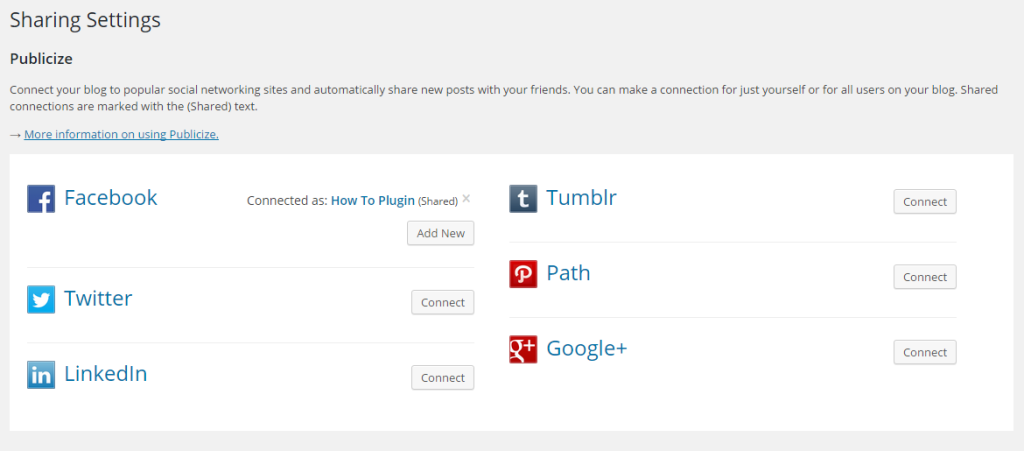 Step 6.Connect Your blog with these 6 Social networks and allow them to publish new articles on the behalf of you.
1.Connect With Facebook
2.Connect With Twitter
3.Connect With LinkedIn
4.Connect With Tumblr
5.Connect With Google
Final Words
I hope you loved this post and this was very helpful to you.If you have any complaint about this article then contact us directly and if you know another method to share automatically posts on social media then share with us.