How to Activate Night Mode in Android Phone
Originate by the apple the night mode function in smartphones are now a very important function which every night owl needed.The blue spectrums of light are bad for your eyes, especially at night when you're more likely to be looking at your phone in a dark environment.
This blue light affects your eyes and that's why Google added night mode function in their new nougat Android update.There are much software are available if you want to do the same with your laptop or desktops.With F.lux software, you can activate night mode by controlling blue light filtering.
Blue light filter, an Android app which you can use to activate night mode in Android phone.The blue light filter is used to reduce blue light by adjusting the screen to natural colour. Shifting your screen to the night mode can relieve your eyes strain, and your eyes will feel at ease during night reading. Also, the blue light filter will protect your eyes and help you sleep easily.
Features:
Reduce blue light
Adjustable filter intensity
Save power
Very easy to use
Built-in screen dimmer
Eye protector from screen light
This application protects smartphone users from blue light exposure, causing insomnia and amblyopia.It prevents radiating from blue light and helps to prevent your eyes from the bright screen which affect your eyes in the night.This plugin is free to use and you can download it for free.
Features:
Prevent from radiating blue light
Easy access to Eye filter usage setting
Bluelight filter for optimal eyesight
Optimal 8 Sort of filter are available
Protecting visual acuity of smartphone user
Consuming less battery power supply
Night screen can reduce the brightness of your screen lower than you can achieve with the default settings.This application applies an overlay filter that acts as a dimmer to darken the screen. It helps to avoid a headache and eye pain in a dark environment or at night.It can automatically set default brightness settings in Android to the minimum.
Features:
Easy to use
Restore default brightness
Amazing blue light filter
Supports dimming the transparent navigation
Auto-enable & disable feature
Nightowl screen dimmer is a free Android app which enables you to reduce the brightness of your device screen lower than you can achieve with the default settings in order to avoid eyestrain or a headache in a dark environment or at night. If you have an AMOLED display, you can also save battery.
Features :
Screen Dimmer
Automatic Start and Stop
Blue-Light Filter
Advanced Filter
Dimply is simple yet fully functional Android app which can reduce the brightness of your display and prevent your eyes and avoid eyestrain or a headache in a dark environment or at night.With Dimly you can easily decrease the brightness of your screen beyond the default lowest setting and block light harmful to your eyes.
Features :
Display backlight dimming
Blue light-filtering
Customizable minimum and maximum brightness levels
Shake to restore brightness
Auto stop timer
Simple user interface designed for ease of use
Lightweight & small memory footprint
Similar to other blue light filter app, sFilter is also a free Android app which reduces the blue light by activating night mode in Android phone.Blue Light Filter is faster speed because essential function only puts and consume less battery power which is a good feature.This app doesn't annoy you with ads which mean this app is ads free.
Features :
Blocking the blue light
Blue Light Filter adjustment
Screen filter adjustment
Low memory consumption
Free of ads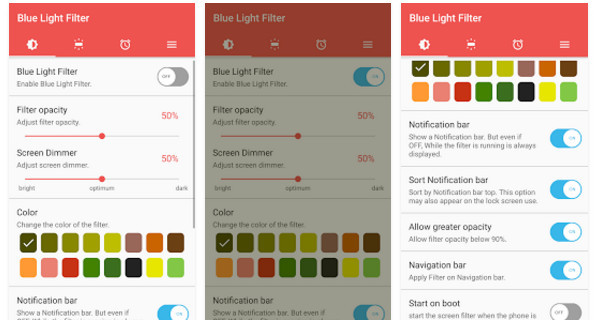 The Twilight app makes your device screen adapt to the time of the day. It filters the flux of blue light emitted by your phone or tablet after sunset and protects your eyes with a soft and pleasant red filter. The filter intensity is smoothly adjusted to the sun cycle based on your local sunset and sunrise times.