We all know that Blogs owned the internet because of the huge number of blogs.If you have a blog on WordPress niche then you can find your blog's thousands of competitors, it is because blog's easily indexed by Google Bot.
When you start a new blog then you have to do some basic works on your website or blog so your blog starts crawling, indexing, become a premium designed blog and others.Basic search engine optimization is one of them the primary task which a blogger must have to perform.
We're going to explain that how you can optimize your newly launched WordPress blog with simple steps, in other words, we can say that A beginner Guide To WordPress Site Search Engine Optimization.
A beginner Guide To WordPress Site Search Engine Optimization
So here is the guide for the optimization of your WordPress blog read this guide and enable SEO on your blog so readers can find your blog through search engine.
An SEO Plugin
Before starting you need a best WordPress SEO plugin which helps to optimize your blog with meta tags and other features.If you are new to plugin then select the best plugin from this list of the best SEO plugin.
We suggest you to install the WordPress SEO by Yoast because it has more options and features than any other free plugin.Click here to download the plugin or you can directly install the plugin from your WordPress blog dashboard.
Read Here
Login to your WordPress dashboard.
Now click on the plugin>>Add new plugin in left side menu panel.
Now enter the name of the plugin "WordPress SEO by Yoast" in the search bar and click enter to search.
Click on the install option and install and activate the WordPress SEO by Yoast plugin.
Optimize Website With Meta Tags
Meta tags helps to optimize your post and article on search engine, search bot can read only meta tags of your website so it is most important to optimize your meta tags.if you add good meta description and title then search bots can fetch your content easily.
Now you have to open the post page where article is to be written.YOu can see a widget of WordPress SEO by Yoast when you scroll down your page.(See The ScreenShot)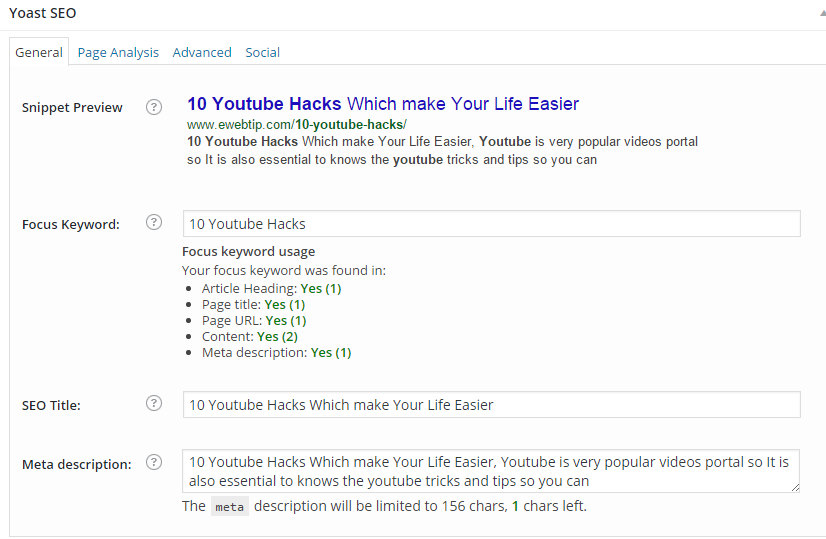 Fill the Focus keyword, SEO title, and Meta description carefully because it helps to get top in the search result, so it is important to write meta descriptions and title related to your article.
Permalinks or URL structure
A well-structured website gets more visitors because visitors can easily navigate a website and search bots love those sites which have a good URL structure that is why a website which have a well URL structure appears the most in the search result.
Change default URL to a well-structured URL, scroll your mouse on setting option in the left side panel and click on the Permalinks option.
Now you can see different options of URL, you can change default URL to yourdomain.com/Category/Your-article or yourdomain.com/your-article both types of URL are search engine friendly.Just add /%category%/%postname%/ in the custom option of URL.
Page Loading Speed Always Matters
The worst nightmare of any blogger or website owner is increasing the bounce rate of a website.It is because high bounce rate measures the site popularity.
Generally visitors bounce back immediately if they found any website slow and hard to open in less time.Page loading speed affects the ranking of the page and search engines also avoid heavy websites.
To make your website fast, you can use a good and premium hosting service such as Godaddy, Bluehost and other.You can also search the light weight theme.It's hard to find the free lightweight WordPress theme so purchase a new premium theme from ThemeForest.Themeforest is the major WordPress theme provider, but you have to purchase the theme.

Image Optimization
Image optimization is one of the most important processes which should be perform after you install the WordPress on your website.Images attract customers and readers and do you know images are the second most searched item on Google so it is essential to optimize your article related images.
You just have to write the Alt text and description of images related to your focus keyword so images can be searched by folks.
Footer Navigation
Whenever any reader or visitors feel lost on your website, footer navigation drives the reader to the right path.You can easily create the footer navigation or you can also use any third party plugin to create the footer navigation on your blog.