VideoProc Review: Is it a Best Video Editing Software of 2020?
Be it a YouTuber, vlogger or short-film producer, everyone needs a video editing software that can edit long videos with HD format in less time.
When thinking about editing video in a short period of time, we only think about the performance of the machine and we ignore the fact that the functionality and capability of software that edits longer high-definition videos should also be considered.
There are multiple video editing tools are available on the internet, but only a few of them are capable of editing large videos and VideoProc is one of them.
Introduction To VideoProc Video Editing Tool
Videoproc is a premium video editing tool that can edit long HD and 4K videos with full GPU Acceleration feature which directly increases the speed of editing without compromising the quality of output video quality.
This tool can be helpful for all types of professional who wants a one-for-all tool includes YouTubers, short-film designers. It can do a lot of things such as edit, cut, crop, merge, effects.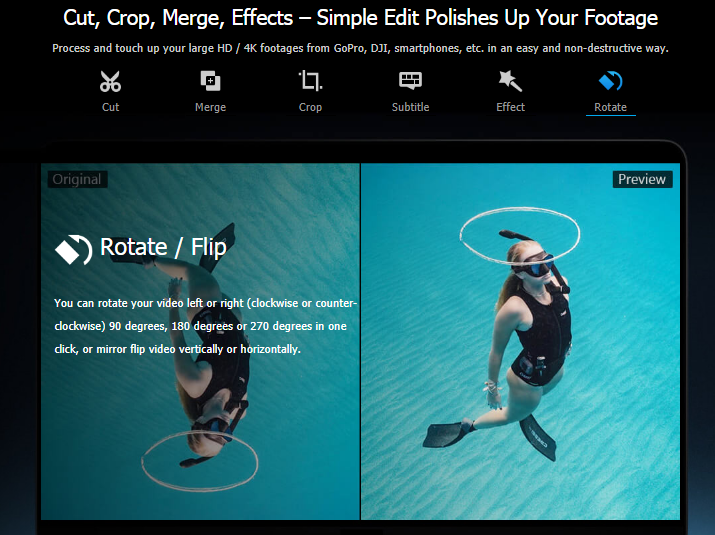 Apart from major features, few options provide you more than other similar tools.
1.Subtitle: Using this tool you can add subtitles to your videos with different look and font. You can enable, disable and import subtitles and add from the external files.
2.Effects: Just like we use filters in photos before uploading them on social networks, you can do it the same with the videos as well. Videoproc lets you add filters like Grayscale, Mirror, Edge, Painting and Sharpen.
3. Stabilize Video: In starting we all starting as a beginner and record some shaky and unstable videos, but this tool has a feature that can stabilize your old videos, videos which you captured while doing adventure sports and all.
4. Remove Noise: Outside recorded videos in public places usually has some noise that disturbs viewers and that noises can be removed using Videoproc tool.
5. Make GIF: Feature of making GIFs are a gift especially for memers, so if you have a page related to meme then you can create as many as meme using this feature.
You can go to learn more free video editing software review.
Features of VideoProc Video Editing Tool
1.GPU Acceleration
Gpu acceleration is one of the main features which is enough to make fall in love with this tool, this features lets users to edit large videos in a very short period of time.
Compared to other software Videoproc uses level 3 full GPU acceleration which allows it to render videos in less period than any other tool without compromising the output quality of the video.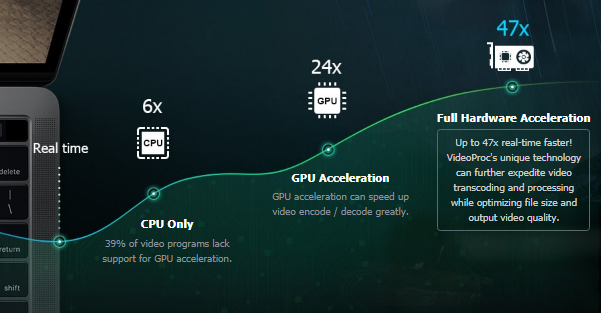 2.Process Videos from Different Devices
VideoProc is one-solution for all and you can figure out that by processing videos from different devices such as GoPro, DJI, iPhone, Android, camcorder, or any other 4k cameras.
Videos recorded on phones either it is an Android or iPhone they do not play smoothly on computers, videos recorded on Action camera like Gopro or using any drones have shaky videos with loud noise but videoproc makes all these videos just like professional by just editing them.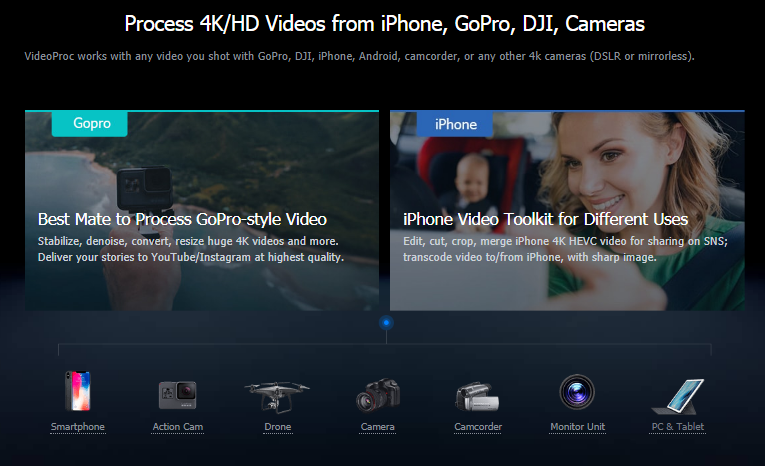 3.Built-in Media Downloader Engine
While editing we all need some extra video clips, music, audio, and different elements to make a video more interesting and this feature helps you did the same by allowing you to search, edit and add the media directly within the tool itself.
Not just videos and audios, you can also search the subtitle for movies and TV series and it allows you to use the proxy(VPN) so that video can be download from anywhere in the World.
4.Powerful Screen Recorder
Screen recording is important for vloggers especially for tech vloggers who upload tutorials related to Mobiles and Computers. This feature lets you record anything which is on the screen be it a skype call, game you play or live classes to play when you revise.
The screen recorder has three elements Recording modes, resizable windows, and utility tools.
Three Recording modes let you record desktop / iOS screen with voiceover or record with webcam, or in picture-in-picture mode at the same time.
5.Intuitive Interface
Every video editing software provides mostly similar features but what they do not provide a user-friendly interface of their tool which makes video editing quite confusing, but with VideoProc it is easy to get things done easily.
It has a very cool and simple user-interface that makes it easy to find all the features, navigation and add different elements in the video editing section.
VIDEO TUTORIAL
Final Words
So, the question is that is it the best Video editing software of 2020? and my answer is yes.
Videoproc has some amazing features to use which we have to use a separate tool such as finding media to add in videos, removing noise, screen recording Etc. It has full hardware acceleration which you cannot find in any software which makes this tool better than anyone.
We've given the review score on various basis such as performance, User-friendly and the scores are quite impressive.