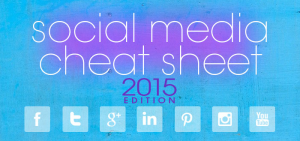 Have you ever wonder how to increase traffic from social media?Here is the Ultimate Cheat Sheet On Increase Traffic From Social Media.The Social network is a major source of traffic so no one can't simply ignore this source.
It's not tough as rocket science to get traffic from social media, you just have to follow right steps and avoid mistakes while sharing your blog posts on Social networks.
Links, articles and other information you share on the internet goes viral in few hours so it is an essential process which you have to perform after you publish a new article.
Cheat Sheet On Increase Traffic From Social Media
Not everyone is friendly with the social media hacks, so we're providing The Ultimate Cheat Sheet On Increase Traffic From Social Media which helps to spread your content with more peoples on the Social networks.
1.Share content at least 10 times
Mostly people share the content on social media only once in a day which is not visible to every follower.Sharing many times make sure that your content can be seen by every follower.
One time sharing drive your content behind the new shares so it is very important to share your content At least 10 times a day.
Tips: You can share the same content with different heading and caption, but keep in mind that heading must be related with your content.Don't share content with inappropriate headings.
You can share the content with different images, headings, short links and much more.
2.Use Google Short URL of Content links.
You should convert your content URLs into short URLs with the help of Google shorten Url service.Short URL allows you to share the content on social networks and you can also track the URL click, impression and other things.
Google shorten URL analytics shows instant analytics of short URL.This will help you to make the strategy about social media optimization.
3.Use hashtags and Mention Names
Hashtags increase the social visibility of your content easy and it also increases the re-social share.Twitter shows the trending hashtags in the left side, hashtags can spread your content in every corner of the world and that is why it is important.
Mention name means to the mention names of the famous peoples who are related with your articles for example, you're writing an article or news related to Mr. President of your country so mentions their official account in your content so peoples can see the post especially those peoples who are following Mr. President.This will increase the page view of the article.
4.Know What Time is best for Sharing.
Do you know you're doing something wrong while sharing the content on Social networks.The Social sharing success depends upon the time when you're sharing the content on media.It is very important to share content at that time when you followers are mostly active.This will increase the social engagement.
There many tools to analyse the best time to share your content when your followers are most active.
Suggested Tools
5.Don't Forget To Use Images
People see images first and after read the text you write as the caption of any image, so images attract readers.Images boost the social engagement.
You can share jokes, memes and other funny images which relate your content you are sharing, this will make easy to read and understand for peoples.
Final Words
So we shared the 5 Cheat Sheet On Increase Traffic From Social Media, these are the main points which everyone has to try at once.These Social Sharing hacks can engage your blog or website audience from Social networks.