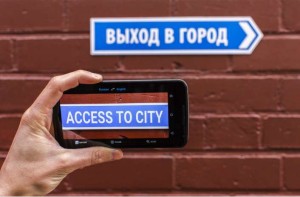 According to dailymail.co.uk, google designed a new update of their Google translate service which can help to translate everything you see in the real time.If you're working for a company and you have to give a presentation to your superior in their language then you can translate all the conversation while your chat is going on.
Features
App now automatically recognises speech in a range of languages
As users speak into the app, a written translation appears on the screen
A Google insider leaked details about the feature earlier this week
Update will begin rolling out to iOS and Android versions of the app today
Google Translate already offers written translation of 90 languages
Update follow's beta version of Microsoft's Skype speech translation tool
Google translate app is available for both Android and IOS users,Now IOS and android users talk to app to translate any text.Google translation app works when you talk with app,app will listen and understand your words and translate in your desired language.
Google translate can translate in the wide range of languages,this app is very helpful for foreigners who are doing jobs in other countries like If a n Indian or an American doing job in china or france,every one know that Indian and Americans can understand french language then this app can help to understand all the signs and languages.
The other great thing is translate app still work without internet connection,yes this app do not need internet connection to translate anything you can use this app while offline.
Barak Turovsky product lead of Google translate said that,millions of people use translate app monthly and making every day more than 1 billion translate across the world.

Language supported: Afrikaans, Albanian, Arabic, Armenian, Azerbaijani, Basque, Belarusian, Bengali, Bosnian, Bulgarian, Catalan, Cebuano, Chichewa, Chinese (Simplified), Chinese (Traditional), Croatian, Czech, Danish, Dutch, English, Esperanto, Estonian, Filipino, Finnish, French, Galician, Georgian, German, Greek, Gujarati, Haitian Creole, Hausa, Hebrew, Hindi, Hmong, Hungarian, Icelandic, Igbo, Indonesian, Irish, Italian, Japanese, Javanese, Kannada, Kazakh, Khmer, Korean, Lao, Latin, Latvian, Lithuanian, Macedonian, Malagasy, Malay, Malayalam, Maltese, Maori, Marathi, Mongolian, Myanmar (Burmese), Nepali, Norwegian, Persian, Polish, Portuguese, Punjabi, Romanian, Russian, Serbian, Sesotho, Sinhala, Slovak, Slovenian, Somali, Spanish, Sundanese, Swahili, Swedish, Tajik, Tamil, Telugu, Thai, Turkish, Ukrainian, Urdu, Uzbek, Vietnamese, Welsh, Yiddish, Yoruba, Zulu