Best Digital Marketing Tools to Grow High
Digital marketing plays an important role in the growing of a new business.It helps to make your business more profitable by attracting more customers online, but it's difficult to choose a good digital marketing tool which is worth to invest.
To clear the confusion of choosing the best digital marketing tools, we have build a strong and best digital marketing tools list.This list have most used and preferred digital marketing tools.
Best Digital Marketing Tools
Here is the list of the best digital marketing tools which can grow your digital marketing strategy and your online business too.
Sprout social is a social giant which is used to grow many online business and help to grow your business on social networks.Sprout social tools made social media management simple and easy.
With sprout social tools you can monitor your keywords & hashtags and never miss any opportunity.You can track your followers and measure your performance.
Scoop.it is an another great digital marketing tool which is used by millions of online marketers.It helps to find the unique content which you can share on your social networks or on your blog to provide good information to your readers.
Scoop.it is a content curation tools which helps to discover content instantly on the keywords of your choice.You can Plan, execute and Audit your content in one place.
Kissmetrics is an analytical tools which helps you to increase the conversion rate on your website and helps to get know more about your visitors and their behaviour.Kissmetrics helps to track your visitors when they visit your website.
Analytical report of kiss metrics helps to increase your website conversion rate.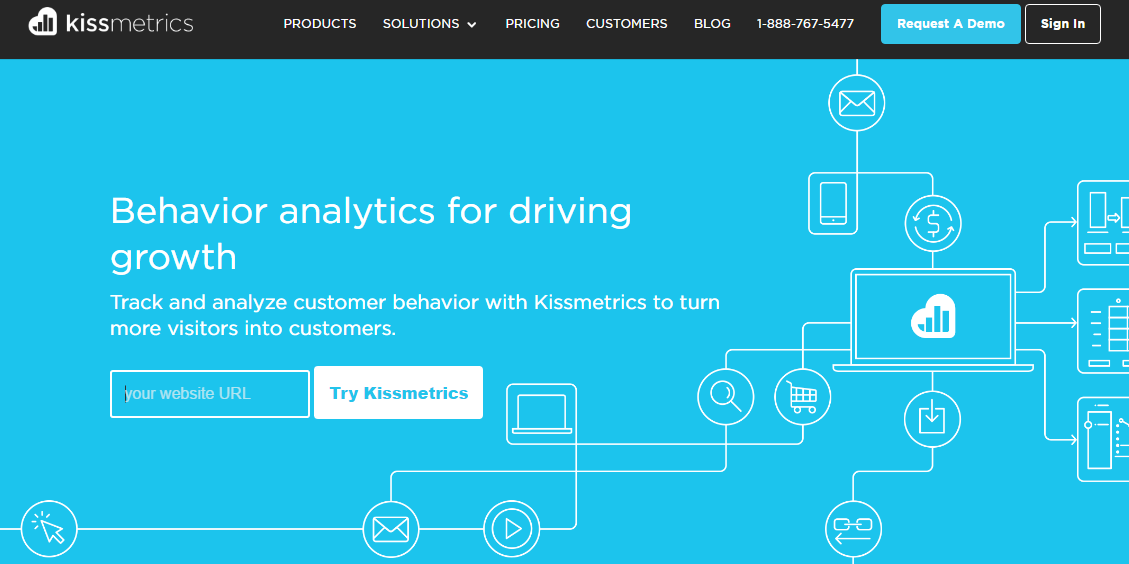 Mailchimp is one of the best email services to add email subscription to your WordPress blog or website.It is simple tool which help to grow your audience and help to build a realtions with your visitors and customers.
MailChimp comes with freemium plans which makes this tool easy for even some of the most amateur email marketers.You can choose its free plan in the starting and then subscribe its premium plan when you start growing.
Ahref is a bunch of tools which helps to track your and your competitor's website backlinks, keywords and what your competitors are doing.With its site explorer you'll get a detailed backlink profile for any website or URL.
Its position explorer will provide you with the accurate position of your website daily.Ahref is a premium tool, so you have to pay to use this tool.You can try it for 14 days with its trial plan.
MOZ is a collection of tools which is built to improve their SEO and earn more organic traffic from search engines.Moz is a premium plugin which is used by many professionals and help to increase the organic traffic and drive real customers to your website.
With Moz pro, you can keyword research, link building, site audits, and page optimisation insights at one place.Moz allows you to use its 30 days trial plan.
SEMrush is an another giant SEM tool to research your competitors keywords.SEMrush is a SEO tool which lets you do keyword research, track keyword ranking, check backlinks, check competitor ranks & most importantly, do a complete SEO audit of your blog.
It makes easy to find what keyword your site is ranking for.SEMrush is a premium marketing tool which you can use for the trial period.

Hootsuite helps to manage all your social media marketing in one place.With this tool, you can manage all your social profiles from one dashboard plus you can also measure your social media performance with analytics.
Hootsuite allows you to collaborate with your  team members so you can share your hootsuite account with the team.